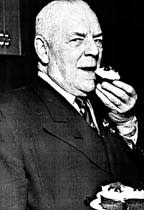 Duncan Hines is much more than a cake mix.
He was a man with a vision for higher quality dining in the United States. He was a man who raised the standards for more products than we can name.
But what you might not know is that Duncan Hines was born right here in Bowling Green in 1880.  This month we're celebrating his great influence by honoring his birthday 133 years later on March 26. He's been celebrating your birthday for years, so why not celebrate his now?
While traveling the byways and highways of a newly motorized nation in the 1930s, Hines was both impressed and shocked by many establishments. At a time when health departments weren't available, he was not afraid of asking to see the kitchen as he anonymously inspected a restaurant. His humble, yet humorous, opinions became the basis for his guidebooks, soon to be in nearly every glove box in the nation. The simple travel writer became a legendary product icon.
Several attractions around the Bowling Green area are dedicated to Duncan Hines' impact on American culture. The Duncan Hines Scenic Byway is an 80-mile loop taking you through rural countryside similar to what Hines traveled during his early career. The Byway begins and ends at Hines' former home and office in Bowling Green.
The Kentucky Museum on Western Kentucky University's campus features a "Recommended by Duncan Hines" exhibit that's fun and educational for the whole family. You'll find loads of travel memorabilia and state of the art media tools to help tell the story of Hines' life and career.
Every summer the Bowling Green Junior Woman's Club organizes the Duncan Hines Festival featuring live music, an art exhibit, kids' activities, and of course, a baking contest. Not only do festival goers enjoy the atmosphere of charming downtown Bowling Green, but they also get a chance to participate in fundraisers like Uncle Duncan's Duck Derby.
More information about Duncan Hines and these attractions can be found at our Duncan Hines micro site. Visit our Facebook page for some fun Duncan Hines trivia and a chance to win prizes during his birthday week of March 19-26!
Then plan your visit to Bowling Green to learn more about the man behind the cake mix.  From now on you'll think twice while frosting those cupcakes. All this sweet talk has made me hungry. I'll be baking.