Validating Tradition. Everyday Needs. Family Ties. Inspiring Innovation. Evolving Markets. All of these themes are lovingly woven into "Standing the Test of Time: Kentucky's White Oak Basket Tradition" exhibit at the Kentucky Museum on display through April 8, 2017. White Oak basket making not only showcases incredible artistry, it also intertwines the history, economy and family life of southcentral Kentucky. From the earliest families who wove baskets for household and farm use in the 1800's to the master of artists today, basket making has persisted as a vital tradition in this region.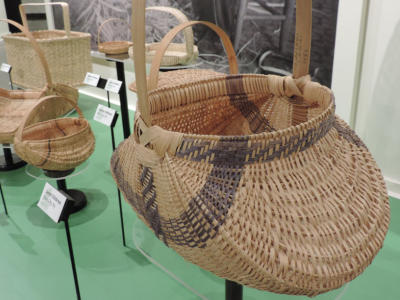 Not only is seeing the exhibit an informative and educational experience, it also allows you to peak at some of the modern day artists around Kentucky. Vignettes are set up to showcase different baskets from across the state handcrafted by numerous individuals. As you walk through the exhibit, you'll see a variety of shapes and sizes of baskets, and you get a glimpse of how these incredibly intricate baskets are made.
Leona Wadell is one of the many featured artists in the exhibit and you can see her impressive award winning baskets. It is safe to say that Leona has mastered the craft and is a mentor for many artists throughout the state, lovingly passing down the tradition to future generations. Featured in the exhibit is Leona's basket making kit, displaying all of the tools and materials she uses in order to craft her baskets. 
Did you know the anatomy of the White Oak basket is special to south central Kentucky? Their distinct construction techniques both identify and distinguish them from other regions and styles. Look closely at the wrapping that holds the hoop and handle together while noticing the addition of primary flat ribs that provide the foundation for its characteristic shape.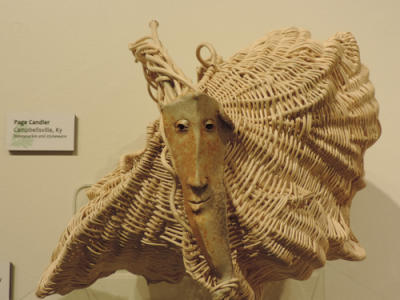 The Kentucky White Oak exhibit is an inspiring experience for all ages and occasions! A Basket Celebration will take place Saturday, November 12 from 1-3pm when the public is invited to bring baskets in for an informal sharing experience with additional weaving activities for all ages. Then in 2017, join basket maker and exhibit co-curator Beth Hester for an Egg Basket Making Workshop on January 14 from 9-4.