If you are in Bowling Green, KY for the Thanksgiving holiday you are in the right place. We have you covered from things to do and events, to where to dine on Thanksgiving day if you burn the turkey - don't worry, we got your back. Admire our fall foliage, go on a mural hunt, check out 1 million Christmas lights or pet a reindeer, we will leave it up to you but whatever you do, enjoy your time here. Keep scrolling for your very own guide on how to do Thanksgiving in Bowling Green, Kentucky.
THINGS TO DO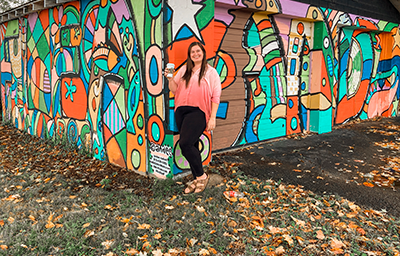 Head out on a hunt with your friends and family. Not a turkey hunt, a mural hunt! Bowling Green is becoming more and more colorful with the numerous murals popping up all over the city. Snap some pics and post to your social accounts - Bowling Green's street art scene is booming!
Dive right in to local culture with local Kentucky craft beer. Bowling Green is home to two craft breweries that will be open the weekend after Thanksgiving - Blue Holler Brew Supplies and Gasper Brewing Co. While you are there, grab a West Kentucky Brewery Hop passport to begin your journey through Kentucky craft beer. 
One word - Reindeer! When Thanksgiving arrives we know Christmas is right around the corner and what is Christmas without Santa's four-legged helpers? Make your way to Bowling Green's Reindeer Farm to awe over the cuteness while also shopping in the gift shop, dining from a local food truck, writing letters to Santa and enjoying other farm animals with your friends and fam. 
Try your athleticism downtown at the SoKY Ice Rink. What's Thanksgiving without a little family-friendly competition? Fun for adults and geared for children too, dress warm and enjoy your time under the pavilion on the ice. Grab some hot chocolate and take part in a treasured holiday tradition for many. 
Out on the ice may be too cold so turn the heat up in your vehicle and enjoy over 1 MILLION lights at Twinkle at the Track. Load up the car and head out to the NCM Motorsports Park for a light display like no other. Enjoy their Christmas village and take a spin on their karting track as well. 
EVENTS


November 25          Great Turkey 5K Run and Gobbler 3K Walk, Kereiakes Park
November 25-28     Twinkle at the Track (pictured above), Motorsports Park
November 26          National Lampoon's Christmas Vacation, SKyPAC
November 26          Black Friday Yoga Then Wine, Be Happy Yoga & Salt Cave
November 26-27     Fall Market at the Venue, The Venue at 939 Adams
November 26-27     Thanksgiving Bracket Nationals, Beech Bend Raceway
November 26-28     Best. Christmas. Ever., The Reindeer Farm
November 27          Santa at the Rink, SoKy Ice Rink
November 28          It's a Wonderful Life, SKyPAC
 
RESTAURANTS OPEN THANKSGIVING DAY
Cracker Barrel - 1960 Mel Browning 270-843-8087 - 7A-10P 
Double Dogs (pictured above) - 1780 Scottsville Rd. 270-843-9357 - 4-10P 
El Mazatlan - 2435 Nashville Rd. 270-901-2989- 11A-7P 
IHOP - 3240 Scottsville Rd. 270-904-2333 - 6A-10P 
McDonald's - 3080 Scottsville Rd. 270-781-9838 - 5A-11P 
Ramada Inn - 4767 Scottsville Rd. 270-781-3000 - 10A-11P 
Ruby Tuesday's - 2945 Scottsville Rd. 270-393-8242 - 11A-10P
Teresa's - 509 Gordon Ave. 270-782-6540 Free lunch - 10A-1P - Dine in only
---
We hope you enjoy your holidays and we know your time here in Bowling Green, KY will be wonderful. If you plan on exploring Bowling Green during the Thanksgiving holiday give us a shout! Tag us @VisitBGKY (Instagram, Twitter and Facebook) and be sure to use #VisitBGKY on all posts. If you are wanting to know more about Bowling Green outside of what goes on in this town during Thanksgiving, sign up for our newsletter! Happy Thanksgiving!