Visit Bowling Green Meeting Services
The Visitors Bureau currently provides convention services free of charge to meetings and events in Bowling Green that have overnight guests at our hotels. Among the services provided are:
Registration Services: Experienced registration personnel
Promotional Materials: Bowling Green area brochures and maps
Welcome Packages: VIP welcome gifts, delegate welcome kits
Housing: Convention facility information, group rate information
Publicity: News releases, photography assistance, media contacts
Program Planning: Spouse and children's programs, entertainment information service, supply sources
Visitor Information: On-site information at events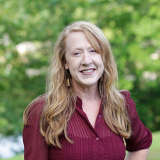 MARISSA BUTLER
HOSPITALITY SERVICES DIRECTOR
From an amusement park attendant to restaurant management and hotel sales, Marissa Butler joined the CVB in June 2007 with extensive hospitality experience. The Nashville, Tenn., native made Bowling Green her home after graduating from WKU in 1998 with a Public Relations degree and a Folk Studies minor. Marissa began as Public Relations Coordinator, then became PR Director in 2008, promoted to Marketing Director in 2012, then promoted to Hospitality Services in 2022. Contact Marissa if looking to learn more about the CVB, how we serve our local community, or ways we can help service your meeting, conference or group coming to Bowling Green.