Cameron is an avid park lover, goer, user, you name it! We also want to mention he is a Bowling Green City Parks employee - so he knows his stuff. He also authored a children's book, Home is Where Your Park Is. He is the real deal and Cameron kindly put together this guide for our visitors. Keep on scrolling to find out where you can get outside and enjoy our local park system while visiting BGKY. 
---
What are some of your favorite things to do in the park? There's trails for walking, running, or riding on wheels, trees that make for great picnic spots, playgrounds packed with all the fun, and so much more! The park is truly a place full of amazing possibilities! The park is a place where communities are built, and memories are made. The park is a place where we as a community can live, learn, and play together. The park is a place that can truly feel like home. There is well over 2,000 acres of parks located in both the city and county park systems, meaning you can explore all they have to offer with no one visit being the same as the last. As a professional in the field of park and recreation and local resident in BGKY, my love for parks is endless. I am excited to share with you some of my favorite local parks to visit here in our wonderful community! Let's jump right in! 
Preston Miller Park is home to many of our community's favorite amenities, including the Russell Sim's Aquatic Center, everyone's favorite summer spot for fun in the sun! However, did you know it is also home to some other seasonal celebrations that are sure to provide your family with fun for everyone?!? The Annual BGPR Pumpkin Trail takes place every October in the park, bringing in hundreds of painted pumpkins from local businesses and organizations for the whole community to enjoy as they walk the trail. Preston Miller Park is also a favorite vacation spot for the Easter Bunny, who takes up residence in the park every spring for the Annual BGPR Bunny Hop Trail! In addition to these wonderful family fun events, the park also has sand volleyball courts, the premier ground soccer fields, a challenging yet exciting disc golf course, and an outdoor fitness facility. Even when summer ends, Preston Miller Park is still the place to be for all the fun!
Everyone plays, and everyone plays together! Roland Bland Park is located near Downtown Bowling Green on Center St. In 2021, our community's first ever all-inclusive and accessible playground was officially open for play. The playground expansion at Roland Bland Park created a space that breaks down barriers and helps to facilitate play for everyone in our community, regardless of any disability they may have. It encourages interactions between children with and without disabilities, using the universal language of play and a smile to help make our community a more inclusive place for everyone! The playground has many great features for all ages, including the PNC Bank Play and Learn Village complete with a musical garden. A Communication Station was recently installed as well that provides the opportunity for any child to communicate during their play experience at Roland Bland Park. In addition to the amazing playground, Roland Bland is also home to our new pickle ball arena complete with 4 courts, as well as the city's only skate park where you can bike, board, and skate. 
Bowling Green is home to an incredible Downtown area that is home to two lovely parks, Fountain Square and Circus Square Parks. Fountain Square is the heart of city, and home to the iconic fountain that is woven into the fabric of everything anyone knows about Bowling Green, Kentucky. There is never a day that visiting Fountain Square Park is a bad idea, as each visit serves to remind all of us who live here just how special our community is. You can then walk next to the iconic Capitol Theatre down the capitol alley along the Heritage Trail, as you make your way to Circus Square Park. Circus Square Park is home to one of two spray grounds that provides a nice way to cool off in the summer. Circus Square is also home to Concerts in the park every July through September, as well as the Annual Bowling Green International Festival, celebrating our community's rich cultural diversity. Every Holiday season, both Downtown Parks come to life during the Downtown Lights Up Festival, when thousands upon thousands of lights are turned on to signal the start of Christmas in South Central Kentucky. It is a truly magnificent sight to see! 
A community of Hilltoppers has plenty of places to get a good view of our beautiful city, and Reservoir Hill Park is one of the very best! Enjoying a picnic lunch on the hill, under the shade trees near the playground, or at the stone shelter is a great way to spend any day. The Warren County Public Library hosts story times in the park during the warmer months, making any visit to the park all the more exciting! Reservoir Hill Park is also one of the multiple stops along the Sweethearts Challenge trail, BGPR's annual Valentines Scavenger Hunt event for couples and families a like! A fun journey through our beautiful downtown with our loved ones is the best way to celebrate the Valentine's season! 
Even in the most vibrant, urban, and busy cities, green spaces and nature parks are an important piece to the overall health and well-being for the people that call those places home. Even in Bowling Green, we have multiple places where we can retreat to the outdoors to escape the hustle of our growing city. One of those places is the Chuck Crume Nature Park located off of Nashville Rd. or at the end of Topmiller Ave. The park is named after Dr. Chuck Crume, a former professor in the WKU Recreation Administration program and well known artist. In addition to his exemplary work as a professor and nature artist, Dr. Crume is credited with drafting the original artwork for the WKU Red Towel logo! This park is complete with multiple nature trails that wind through the park underneath a beautiful tree canopy. Although portions of the park were damaged during the December 2021 tornadoes, the park still remains a hidden gem full of natural wonder for anyone to enjoy. 
Our community is continuously developing a system of greenways that connect our community to important places of interest, providing safe routes for walking, running, biking, and more! One of the more recent sections of the greenway system to open is located along Jennings Creek, and is an extension of the previous Creekwood greenway section that ends in the Whispering Hills neighborhood. Starting behind Jennings Creek Elementary, the trail leads down towards the creek to a picturesque bridge that opens up into a breathtaking greenspace adjacent to the greenway. As you walk along this trail and cross over Creekwood Avenue, there is what seems like every sort of landscape you can imagine. From magnificent trees, to small natural wetlands, all along the Jennings Creek watershed that is so critical to our community. While not an official park in either the City or County park systems, it is still worth mentioning because I know you will enjoy visiting it as much as I do. The natural beauty in this area begs you to visit time after time to experience all it has to offer, and its incredible potential to ensure natural green spaces remain an important piece of our community as we grow into the future! 
Paradise Playground at Basil Griffin Park 
Located off of Three Springs Road, I am including this park because of what it means to my childhood. Although I grew up in Louisville, KY, I visited Bowling Green quite often as a young kid to see my grandparents. One of the places we visited the most was Paradise Playground at Basil Griffin Park, and I thought it was AWESOME! As a park and rec kid, playgrounds were my favorite thing growing up, and this felt like the biggest playground I had ever laid my eyes on. Slides towers that made me feel like I was climbing Mount Everest, swings to help me reach the moon, and so much more! As I have grown up and now am in the field of park and recreation as a professional, it is this same child-like enthusiasm for our industry that I try to bring to work each day. Memories I have as a child at Paradise Playground in Basil Griffin Park are the things that motivate me each day to be at my best, so others can experience this same joy I did as a kid. If you visit Paradise Playground during this fall, you may even see a children's book on the story trail, titled Home is Where Your Park Is, provided by the Warren County Public Library written by yours truly! 
Kummer Little Recreation Center
 
Celebrating its 15th anniversary in September of 2022, the Kummer Little Recreation Center has been providing indoor recreation to our community since opening its doors in 2007. The building is named after two former professors in the Recreation Administration department at WKU, Dr. Biff Kummer and Dr. Alton Little. Both men contributed greatly to the advancement of parks, recreation, and sport services in our community. This building means a great deal to me because it where my office is located, but also because my grandfather was Dr. Little. He is the reason I am so passionate about parks and recreation, and has taught me everything I know! Complete with an indoor walking track, two basketball courts, a commons area and multipurpose room, this building serves many purposes for the recreational needs of our community. The building is home to many of the BGPR youth basketball leagues, adult basketball leagues, adult volleyball, and more. It is the home of our BGPR Special Populations program and offices, which provides programming and services in our community for individuals with intellectual and/or physical disabilities such as Special Olympics, Adaptive Sports, and Camp Happy Days. 
The Bowling Green and Warren County communities are filled with so many wonderful parks, and each one of them is worth exploring. As I mentioned before, the park is a place full of endless possibilities. Although I could continue writing and adding park after park to this list, I will stop there and conclude by saying, GET OUTSIDE AND VISIT YOUR LOCAL PARK! You will be happy you did.
---
Need more help planning your trip to Bowling Green, KY? Request a Visitors Guide and subscribe to our monthly e-newsletter to stay in the know year-round.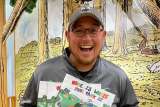 Cameron Levis
City of Bowling Green Parks and Recreation Special Populations Coordinator
Cameron Levis considers himself a true "Park and Rec Kid", being the third generation of park and recreation professionals in his family, following in the footsteps of his mother and grandfather. He is the Special Populations Coordinator for the City of Bowling Green Parks and Recreation, and recently published his first children's book titled Home is Where Your Park Is dedicated to his late grandfather, Dr. Alton Little. Cameron was named in 2021 to the Inaugural "30 Under 30" List by the National Recreation and Park Association as one of the top young park and recreation professionals in the entire United States and Canada. He strives every day to ensure all people in the community he serves are able to live, learn, and play together through parks, recreation, and sport.