National Corvette Museum Campus
Not only is the Corvette America's favorite sports car, but it's also the longest-running model car in the nation's history! And no other automotive museum in the world is dedicated to a single-model car. So it's no wonder that enthusiasts and visitors alike are entranced by the 115,000-square-foot National Corvette Museum located just off I-65 in Bowling Green, Kentucky, the Home of Corvette!
Consistently named among the top "Best Attractions for Car Lovers" in the USA Today 10 Best Readers' Choice awards, this top-r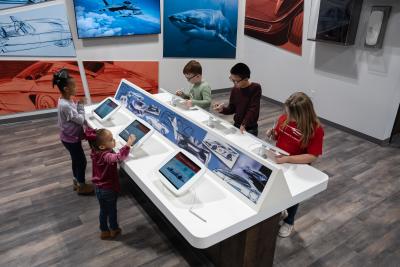 ated Kentucky museum features over 70 Corvettes, mostly on loan by private donors, that are showcased in periodic settings including mint classics, prototypes, rare finds and racing champs. Families will enjoy the McMichael Family Education Gallery, a 2,000-square-foot dedicated education gallery that provides state-of-the-art educational experiences geared directly to the next generation of Corvette enthusiasts, engineers, designers, and more.
Of course, you can make your friends really jealous by paying an additional fee to ride around the property in one of the museum-owned Corvettes (seasonal only) or by having a full Corvette Experience at the adjacent Motorsports Park! Or consider taking a virtual spin in a real C6 Corvette on the Museum's Boulevard with the racing simulator! For a small fee, visitors can "drive" the modified Corvette with life-like movements surrounded by three video screens providing the racetrack's visuals. Available for all ages as long as feet can reach the pedals, passengers are also allowed. Trust us, it will get your adrenaline pumping and is worth the cost!

Most visitors complete the self-guided tour of the museum in an hour or so, and guided tours are available 7 days a week at 11am, and 1pm central time. If you're really serious about learning the history of Corvette, download the free audio tour online or via the Museum app. A Certified Sensory Inclusive venue, sensory bags can be obtained at the admissions counter.
Hungry? The on-site, newly renovated Stingray Grill can help refuel your tank, currently open for breakfast and lunch daily when the museum is open. Enjoy chef-created dishes like the Stingray Burger, a blended patty of Waygu, Bison, Elk, and Boar with arugula, apple slices, smoked cheddar, bacon, and house-made bacon jam, on a brioche bun. The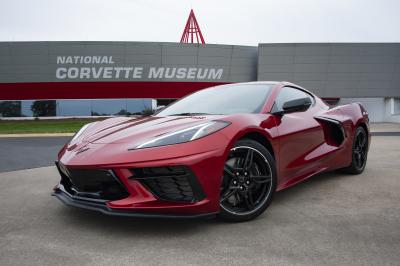 Stingray Burger was also featured on Guy's All-American Road Trip on Food Network. 
For 70 Years, Corvette has been the dream car of each generation. Experience the exhibit An American Love Affair: 70 Years of Corvette. An epic history requires an epic treatment, featuring the National Corvette Museum's new Skywall; an 8.5 ft tall, nearly 300 ft long LED wall that transforms the interior of the iconic Skydome into a jaw-dropping continuous video moment that captures the energy, sight, sound, and experience of Corvette.
Open the full listing below for more details and links to the Museum's website and social media channels. 
Hours: Open daily 9am to 5pm between March 1 and October 31. Open weekdays 10am-5pm, Saturday & Sunday 9am-5pm between November 1 and December 31. Open weekdays except Tuesdays 10am-5pm, Saturday & Sunday 9am-5pm between January 1 and February 28/29. The Museum is also closed on the following holidays: New Year's Day, Thanksgiving, Christmas Eve, and Christmas Day.
350 Corvette Drive

(270) 781-7973
This home for America's Sports Car, consistently ranked in the top three "Best Attractions for Car Lovers" in the USA Today 10Best Readers' Choice awards, features over 70 Corvettes showcased in periodic settings. See mint classics, prototypes, rare finds and racing champs in the…
505 Kimberlee A. Fast Drive

(270) 777-4509
Conveniently located off I-65 exit 28 and just minutes from the National Corvette Museum, the NCM Motorsports Park offers activities for novice drivers all the way to highly skilled racers – both on four wheels or two. There are even activities for those with no experience…