Duncan Hines History in Bowling Green
Duncan Hines, the king of cake mix, was indeed a real person! Born in Bowling Green, Kentucky, Hines' influence on American dining standards is unparalleled. Explore the legacy of this original southern foodie and guidebook author during your visit to BGKY!
The Duncan Hines story begins while traveling the byways and highways of a newly motorized nation in the 1930s when Hines was impressed by many dining establishments... and shocked by others. At a time when health departments aren't available, Hines is not afraid of asking to see the kitchen as he anonymously inspects a restaurant. His humble, yet humorous, opinions become the basis for his guidebooks, soon to be in nearly every glove box in the nation.
Read on to learn more about America's "eatery expert," or navigate the microsite's sections to learn about the Duncan Hines Exhibit, the Duncan Hines Scenic Byway, and the newly revived Duncan Hines Days, a week-long community homecoming celebration to be held the first week of June 2023.
Duncan Hines - The Man Behind the Cake Mix
Without a doubt, Duncan Hines is one of the most recognizable names in American food products. Many people who visit Bowling Green are surprised to find that, indeed, Duncan Hines was a real person and not something from the imagination of a Madison Avenue board room.
Hines was born in Bowling Green in 1880. He moved west because of an asthma condition, and after spending several years as a traveling salesman in the printing business he returned to Bowling Green. It was those years as a salesman that led him to his success. He spent so much time on the road that he became very familiar with restaurants and lodging across America.
Hines decided to take note of the best places he encountered while traveling, and he then began to tell others about it. His recommendations became so popular that in 1935, he published a list of 167 restaurants and sent them along with his Christmas cards. The response was overwhelming, so in 1936, he self-published Adventures in Good Eating, an expanded list of excellent restaurants. In 1937, Hines published a second edition.
While other guidebooks of the era like "The Jewish Vacation Guide" and "The Negro Motorist Green Book" were providing safe travel tips for minorities fearing for their safety in unfamiliar towns, Hines was providing reassurance for motorists concerned about the growing number of deaths attributed to poor health standards at roadside diners.  By 1938, Hines had found a new career and published a companion guide to the best lodging in America. Most Americans had both books in their cars for quick reference. After being featured in the Saturday Evening Post in December of 1938, Hines' influence on the American public exploded! 
Hines used the trust he was gaining by shining a light on an establishment's cleanliness and quality to help reform American restaurants. After more than a decade of success, he was finally convinced to go in a new direction — using his trusted name for product endorsement. In 1949, he and businessman Roy Park formed Hines-Park Foods, Inc. with the purpose of bringing high-quality foods to the American household.
They began producing over 250 canned, bottled and boxed products featuring the Duncan Hines label. In 1956, Hines-Park Foods merged with Procter & Gamble. Within a short time, Duncan Hines introduced cake mixes, which were marketed nationwide along with other items under the brand name. The brand image has been built on those cake mixes and what Hines' was highlighting from the very beginning — good quality.
In 1959, Hines died 11 days before his 79th birthday. The guidebooks were discontinued in 1962, but market research by Procter & Gamble in the 1990s showed that 99 percent of people going into a grocery store recognized the name Duncan Hines. In January 1998, Procter & Gamble sold the Duncan Hines line of baking mixes to Aurora Foods followed by a merger in 2004 with Pinnacle Foods Corporation and subsequent acquisition by Conagra Brands.
For more than 85 years, the Duncan Hines name has represented excellence in quality, and the brand is one of the most recognized trademarks in the United States. The Duncan Hines product line has included 60 different baked-good mixes ranging from layer cakes and brownies to cookie and muffin mixes plus ready-to-spread frostings and several unique specialty products. The brand has experienced a resurgence after a partnership in 2022 with the Queen of Country resulted in the Dolly Parton Baking Collection.
Duncan Hines, the man, gave us much more than some wonderful products for the kitchen, he gave us a higher standard of dining in America. The next time you have an exceptional meal while dining out, give him a little nod!
Information compiled from Hines' biography, Duncan Hines: The Man Behind the Cake Mix, written by Louis Hatchett (2001)
Duncan Hines' Gravesite
I-65, exit 26. Follow Cemetery Road towards 31W. Turn right into Fairview Cemetery. Follow the arrows to Section E. Mr. Duncan Hines' gravesite will be found to the left.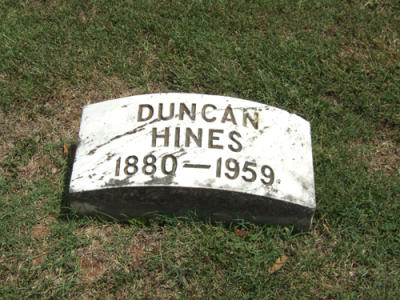 This 80-mile scenic tour begins and ends at the Duncan Hines historical marker in front of the…