When Dr. Rick Voakes first moved to Bowling Green in the early 1980s, he would take his dogs to walk at Kereiakes Park, and noticed people playing golf with frisbees. He'd been playing with Frisbees since he was a kid — he'd toss them with friends at college, and he always made sure to have one with him during medical school.
And it was in Bowling Green where he discovered disc golf — the sport that would eventually make he and his wife, Sylvia, professional athletes.
"When I first came to Bowling Green, I was really trying to promote wellness — and as a pediatrician — promote lifetime fitness sports," Dr. Rick said. "I was trying to get people to play sports they could play their whole life and stay fit. … Disc golf really fit the mold. It's a real sport that you can continue playing at any age and you keep at it, because it's also kind of addictive."
Dr. Rick and Sylvia started playing professionally in the late 1980s, joining the Professional Disc Golf Association tour. They've both won numerous titles — Dr. Rick is a ten-time world champion, and Sylvia is a seven-time world champ. They've both been inducted into the PDGA Disc Golf Hall of Fame — Dr. Rick is a member of the third class, entering in 1995, and Sylvia was inducted a decade later.
They are the second husband/wife duo to make the Hall of Fame, and according to the PDGA website, Sylvia is the first woman to win a PDGA tournament competing against the men of her own age division.
"It's nice for a couple to both be interested in the same thing because we can go to tournaments and both play," said Sylvia. "It's not like one of us is off doing something and one of us is playing. … It's just good exercise, and the disc golf community is like one big family."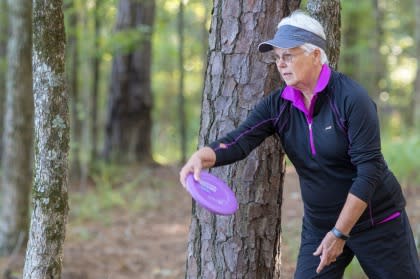 Sylvia Voakes

Disc golf is played like regular golf — you need to get your disc into the basket in the lowest number of throws. Disc golfers only need two discs — a driver and a putter, though many players carry more — and almost all of the disc golf courses in Bowling Green are in public parks and free to play on.

"Disc golf is increasingly popular, even through challenging times — mostly because it's recession proof," said H.B. Clark, who has been playing disc golf since the 1970s and designed/built most of the courses in Warren County. "It's extremely inexpensive to play. … The other thing here in Bowling Green is that we've built so many courses, they're accessible no matter where you live in the county."

There are eight disc golf courses in the Bowling Green and Warren County parks systems — including the course named for H.B. at Kereiakes Park and a course named for the Voakes at Ephram White Park. The Bowling Green Amateur Disc Golf Championships, held at multiple courses each April, attracts 700-800 disc golfers from nearly every state and several countries.

"They're telling people to go play Bowling Green," H.B. said.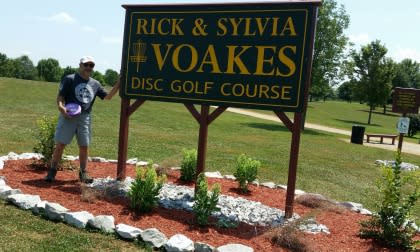 Dr. Rick Voakes

Dr. Rick said it's not unusual to see out-of-state license plates at local parks year-round because of the variety of courses. He and H.B. met shortly after Dr. Rick set up his practice in Bowling Green. In fact, H.B. said Dr. Rick was his kids' pediatrician.

Dr. Rick helped promote Bowling Green disc golf while competing at other events around the country, H.B. said.

"I think one reason that Dr. Rick has been such an influence is that people here in town realize a doctor is playing this thing," he added.

Dr. Rick said there are many health benefits to playing disc golf. You have to use your whole body to throw the discs.

"In order to throw a disc, you have to do a little run-up, making you push off with your legs while using both arms to swing your torso. This gets momentum into the throwing arm, and you follow up with a snapping of the wrist to add spin, which stabilizes the disc's flight," he said. "It uses all of your muscle groups. It's a really great fitness sport."

He compliments his disc golf practice with CrossFit training, which he started about 10 years ago.

"Our goal is to play every day, but that doesn't always happen," said Dr. Rick, who still practices medicine 3 days a week. "We get out about three or four times a week during the season."

H.B. and Dr. Rick agreed that Lovers Lane is a great course for beginners because it has relatively few trees and other obstacles. Dr. Rick recommends the course at Hobson Grove Park because of the number of trees players have to negotiate.

"If you're serious, even as a beginner, go to Hobson, where you can learn to throw straight and get between trees," he said. "That's where I learned to be accurate. If you play a course that's heavily wooded, that's where you can learn the skills quickly."

We hope you enjoyed reading about this exciting sport — and this sporty duo's influence on disc golf in Bowling Green!

Dr. Rick shares another one of our passions, the music of Bowling Green's Ernest Hogan, the first African-American to star on Broadway and a pioneer of ragtime. Dr. Rick arranged and composed 16 of Hogan's songs for a compilation album in 2006. Learn more about it here on WKU's digital commons site and even explore where Hogan grew up, the Shake Rag Historic District, when in Bowling Green for your disc golf adventures! 

Sign up for our new, monthly newsletter to keep up with BGKY happenings.