Looking for a road trip that is easy and not too far away? Make your way to Bowling Green, KY! We have to say, one of the coolest things about traveling to a new place is finding out what the locals do - what's even cooler? Staying in a place that helps you live like the locals do! Horsepower Hangout of Kentucky checks all the boxes. Meet Bowling Green, KY locals Crista and Kevin Briggs, and see what they have to say about their vacation rental and what there is to do in Bowling Green. 
What makes this rental unique? 
This family and pet-friendly vacation rental is THEMED. All of the rooms and spaces are named. 
Throughout the home and property, you will experience a "Kentucky theme" with horse decor upstairs and hot rod/racing decor downstairs.  We chose our name and logo by combining our state's equine industry with the modern-day use of the term "horsepower" used by car and motorcycle enthusiasts (checkered flags). Horsepower Hangout of Kentucky is a car lover's dream and an outdoor enthusiast's sanctuary! The home sits on 1.3 acres, with 30 mature trees that provide lots of shade. You will enjoy relaxing by the fire pit, sitting on the front porch swings, and savoring the beauty of a quiet location, while still being close to local attractions. The two-car garage is a safe haven for your vehicles or motorcycles, no matter what the weather looks like outside. Our desire is that you enjoy it so much, that you find yourself returning to this destination frequently for another dose of "peace and quiet."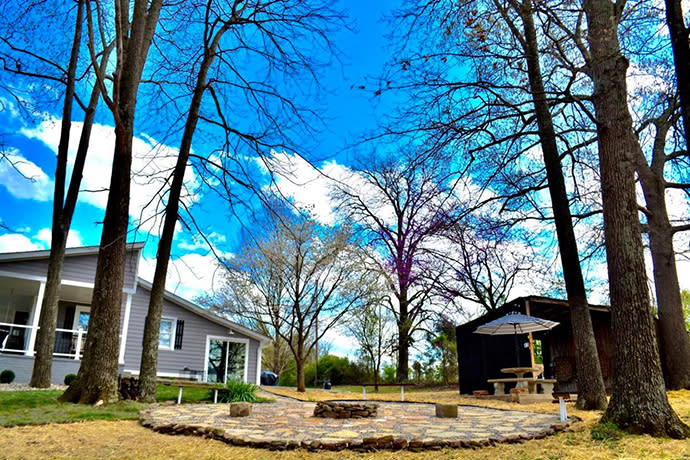 Photo credit: Horsepower Hangout - Crista Briggs
Horsepower Hangout's History
The home, located in the Plano community of Warren County, belonged to a friend and neighbor of ours. She owned a horse that roamed on the property. The old horse barn still stands in the sideyard.  We had a mural painted on the side of the barn with our logo. We purchased the home when our neighbor moved from Bowling Green back in the summer of 2020. 
Since that time, we have completely renovated the home. Another neighbor of ours is responsible for most of the updates including the wrap-around front porch, which is new. I (Crista) did the interior and exterior design, which was a lot of fun!
Our home has 3 bedrooms, but we also have a queen air bed, living room couch, and cot, so we can sleep 8 people. The kitchen is fully equipped with appliances and complimentary coffee, hot chocolate, and snacks for all guests. The mattresses came from our very own, Trent Bedding. The furniture was built by Tiffany Meredith (Tiffany's Country Customs) just east of Bowling Green.
What's close to Horsepower Hangout?
Although the home and property have a country feel, you are conveniently located:
2 miles from Cason's Cove Wedding Venue
2 ½ miles from Interstate-65
6 miles from Harley Davidson of Bowling Green
6 miles from Greenwood Mall and many local restaurants
8 miles from Lost River Cave
11 miles from Western Kentucky University
12 miles from The National Corvette Museum
14 miles from Beech Bend Park & Raceway
29 miles from Barren River Lake State Park
33 miles from Cave Valley Golf Course of Park Mammoth
38 miles from Mammoth Cave National Park
62 miles from the Country Music Hall of Fame in Nashville
68 miles from the airport in Nashville, TN
119 miles from Louisville, KY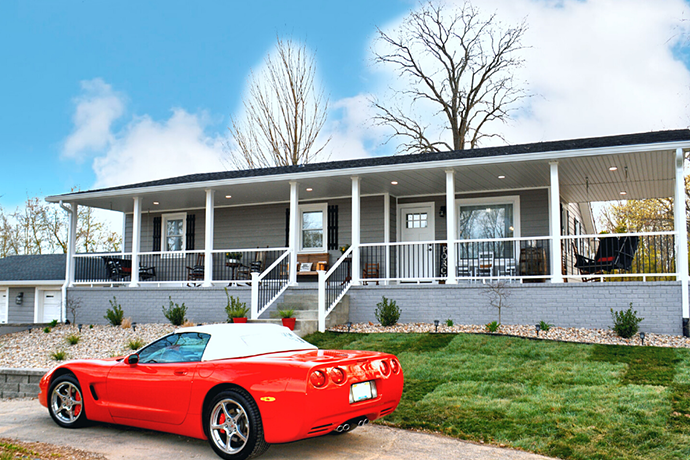 Photo credit: Horsepower Hangout - Crista Briggs
What are your favorites about Horsepower Hangout?
The home is family-friendly, with activities for small kids, teenagers, and adults. Some of the amenities are listed below, see the site for a full list:
• A 2-car garage where your vehicles or motorcycles can be parked out of the weather.
• Wrap-around covered front porch with swings and furniture to relax. 
• Outdoor table, chairs, and benches for relaxing and socializing around the fire pit.
• Gas grill on the patio outside the sunroom. Basic grilling supplies are available.
• 2 televisions, cable, and fast Wifi internet connection.
• Elliptical in the garage for exercising.
• Massage chair downstairs for your enjoyment.
• 1 king bed, 1 queen bed, 1 full bed. Queen air mattress and couch.
• Foosball table, card table, checkers, and other fun family games.
• Grass area for kids to run and play. Yard games and toys for kids are kept in the garage. 
• Laundry room with washer and dryer
• High Chair
• Pack-N-Play
What are your favorite things to do in Bowling Green?
Supporting local businesses, restaurants, and attractions. We have a wall in our sunroom that displays our top 5 recommendations for breakfast, lunch, dinner, experiences and sweets. 
What are your favorite restaurants in Bowling Green? 
440 Main, 643, Boyce General Store, Cambridge Market, Chaney's, Double Dogs, El Maz & more! 
What should Horsepower Hangout's guests do while visiting Bowling Green?
Aviation Heritage Park, Baker Arboretum, Downing Museum, Be Happy Yoga, Beech Bend Amusement Park & Raceway, Hot Rods baseball game, Drakes Creek, Historic RailPark & Train Museum, National Corvette Museum, Lost River Cave & much, much more. 
---
Crista and Kevin are the owners and hosts of Horsepower Hangout! They are both WKU alumni and love Bowling Green, KY. Book your stay at Crista and Kevin's place for a local feel to your Bowling Green, KY vacation - see you soon!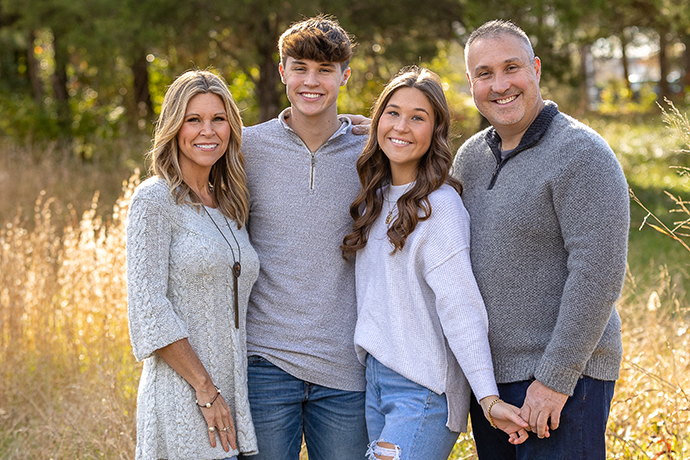 Photo credit: Julie Simon Photography
---
Need more ideas on how to spend your time in Bowling Green? Just head over to our Things to Do and Events pages for all kinds of fun activities. Then, make sure to find a place to stay and some great restaurants. Want to eat outside? We have blog posts about popular restaurant patios and picnic spots. 
Make sure to stay in the know on all things BG by subscribing to our monthly e-newsletter, and you can always Request a Visitors Guide to help you plan your next BGKY adventure.