Vette City, Hot Rod U.S.A., an auto lover's paradise… you name it, it probably fits the town of Bowling Green, Kentucky. It is no secret that we love our autos. The month of September basically gives us bragging rights to being that hot rod city. We host back-to-back auto shows without even catching a breath. No, seriously, we begin with Holley LS Fest East September 10-12, 12th Annual ChallengerFest September 16-17, Holley MoParty September 17-19 and the NMRA All-Ford World Finals & Holley Intergalactic Ford Festival September 30-October 2. We know, we just blew your mind. You are more than likely reading this right now because you are either coming to town for one of these shows or you're already here. This is where we come in.
We want to make sure you have a great time while in the BGKY! We also know you will be spending the majority of your time at the shows and we get it, we will be there too! But, we also want to make sure you know where to shop, dine and hang out while not being an event-goer. Immerse yourself into the Bowling Green ways. Our citizens welcome you with big ole BGKY hugs and we want to make sure you leave us wanting to come back next year. Keep scrolling to discover we go way beyond our auto shows. 
---
EXPLORE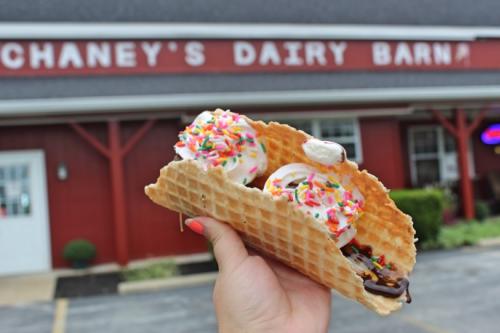 Chaney's Dairy Barn Ice Cream Treat
Chaney's Dairy Barn | 9191 Nashville Road | 270-843-5567
Enjoy homemade ice cream made with milk & cream from their very own Jersey cows! See the robotic milker on a self-guided tour, then fill a cup with Chaney's farm fresh milk. They serve a delicious lunch and dinner on the daily and sell the cutest Kentucky-made items in their gift shop. Your souvenir is definitely waiting on you!
Historic RailPark & Train Museum | 401 Kentucky Street | 270-745-7317
Learn the history of the tracks through state-of-the-art self-guided galleries at this 1925 former L&N Depot, restored to house the two-story, interactive museum. Take a guided tour of their railcars. Check out their special events and their UnSeen BG Historical tours they offer in the month of September.
Traveler's Cellar Winery | 3220 Fuqua Road, Rockfield | 270-846-WINE
A boutique small farm winery and vineyard producing fine wines not commonly found here, influenced by experiences in different wine-growing regions across the world. They have outdoor and indoor tasting areas and always putting on the best events in town!
Down for more exploring? Check out other Bowling Green attractions.  
---
DINE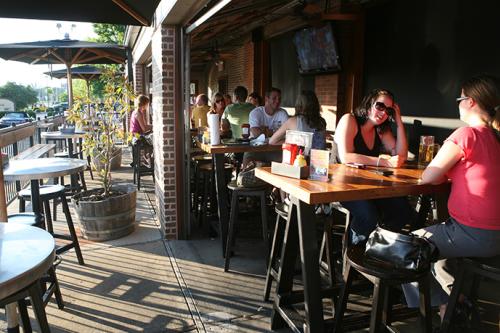 Double Dogs patio
Double Dogs | 1780 Scottsville Road | 280-843-9357
Get a kick out of menu items like Pickled Paw Prints, Double Dogs Hot Wings, specialty pizzas and more! Even kids will have a tailwaggin' good time! Curbside window and patio dining available as well.
Pub by Novo | 2425 Scottsville Road | 270-715-6686
Not your average sports bar, enjoy elegant bar food, craft beers and signature cocktails in an industrial ambiance. Big screen TVs, large patio and attentive service completed this unique experience.
Anna's Greek Restaurant | 1202 State Street | 270-846-2662
Enjoy authentic Mediterranean cuisine in a stunning historic church featuring a dome ceiling and stained-glass windows. A truly memorable dining experience with fine wines and carryout available.
If your appetite is begging for more BG eats, check out our full list.
---
SHOP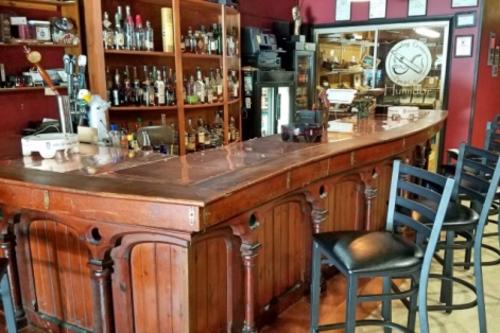 Bowling Green Pipe & Cigar Bar 
Bowling Green Pipe & Cigar | 434 E. Main Avenue | 270-904-2285
BG's premier tobacconist for 50 years. Premium cigars, pipe tobaccos, craft beer and rare spirits are featured in their smoking lounge. Outdoor seating overlooks Fountain Square Park.
Candle Makers on the Square | 415 Park Row | 270-843-3001
All candles hand poured on site or make an appointment to pour your own – over 70 fragrances from which to choose. Locally-made and inspired gifts , art, food items, lotions, soaps, jewelry, pottery and more!
Mary Jane's Chocolates | 432 E. Main Avenue | 270-904-2408
Delight in this vintage candy store in the historic Princess building overlooking Fountain Square Park. Features fine handmade chocolates with a Kentucky twist.
Need more retail therapy? See what else we have to offer. 
---
Alright folks, it looks like we have handled the hard part of planning, what are you waiting for? Enjoy your time in Bowling Green and be sure to tag us in all your posts with #VisitBGKY. Also,  Follow us on Instagram and like us on Facebook.