Beech Bend Raceway Park will have a nostalgic feel to it this week as thousands of colorful, vintage Chevys roll into BGKY. The annual Danchuk Tri-Five Nationals, celebrating all Chevys built in 1955, 1956, and 1957, is Aug. 8-10. There were nearly 3,000 vehicles at last year's event, and we're expecting another great turnout this year! Organizers already have attendees confirmed from 47 states and several countries. 
You'll see a wide variety of Chevys, from Bel Airs and trucks to Corvettes (of course!) As long as it's a Chevy built between '55 and '57, it's welcome. The three days of festivities include a massive car show, drag racing, swap meet, and vendors galore. Click here for a complete schedule — Thursday's activities are at Sloan Convention Center before the action moves out to Beech Bend on Friday and Saturday. 
Steven Rupp of Super Chevy wrote last year that it was hard to comprehend the number of Chevys at Beech Bend. 
"Every color combo, build style, and body design you could imagine was there to be drooled over," he wrote. "Restored to rusted, custom to gasser, pro-touring to pro-street, you name it and there were dozens to check out. On top of all of those show participants, there were hundreds of cars on the drag strip trying to take home bragging rights and prize money."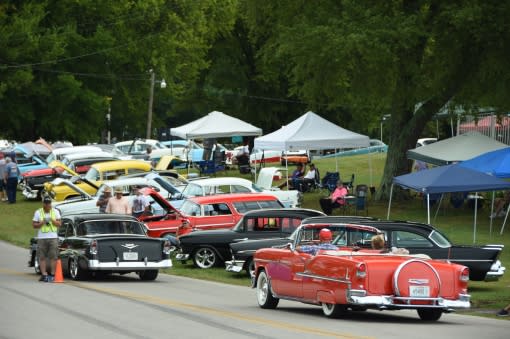 Have a Tri-Five you want to bring out? You can register in person on Thursday at the Sloan Convention Center or at Beech Bend on Friday and Saturday (until noon). Registration is $65 and is good for one tri-five, two adults, and one entry to win the 2019 Golden Star giveaway car, as well as access to all of their events. 
Don't have your own Tri-Five but love these classic beauties? Come on out! Spectator admission is $20 per person per day, Friday and Saturday (kids 12 and younger are free). If you plan on coming out all three days and want your chance to win the Golden Star giveaway car, then you can register for $65, as well. 
What's the Golden Star giveaway a car? It's a custom-built 1956 Chevy Convertible by Woody's Hot Rodz, and you've got to be present for the drawing Saturday afternoon to win it. We got a sneak peek at this beauty when it was on display at the Holley National Hot Rod Reunion in June.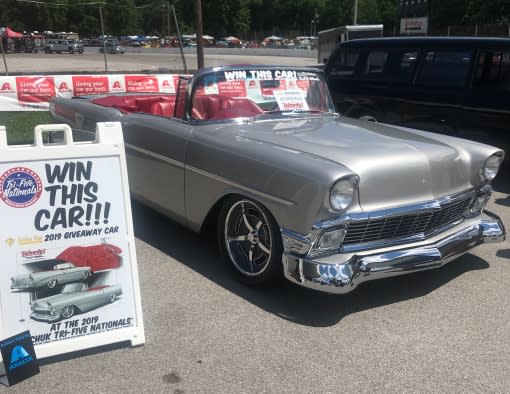 Beech Bend is the place to be this week. You'll love seeing those classic cars up close! Need other ideas for what to do while you're in town? From Events to Things to Do, we've got you covered!