It's that time of year, to spread the Christmas cheer! We like to believe there is nothing more holly jolly than witnessing millions of Christmas lights and Bowling Green, KY definitely doesn't have a shortage. Whether you want to drive or walk through the lights, this guide has plans for you. Gear up and dress festive, Bowling Green, KY is ready to dazzle you with some of the best Christmas lights in the state.
AWE OVER BGKY CHRISTMAS LIGHTS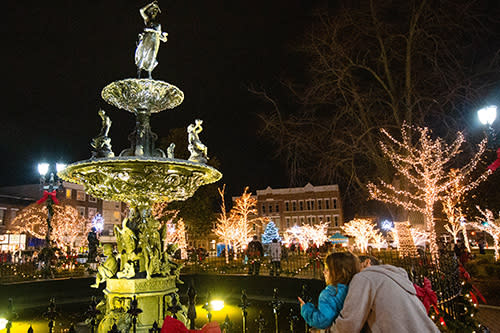 December 3rd officially marks the day downtown Bowling Green lights up! Head to Fountain Square Park and Circus Square Park to witness the magical beauty of the city's Christmas lights. You may circle the parks easily in the warmth of your car. You may also leisurely stroll through the parks to get that perfect Christmas lights pic. The lights in downtown Bowling Green are free to be admired all month long. 
There is nothing prettier than seeing a historic home decked out in lights. While in the area of Fountain Square Park and Circus Square Park, drive around and admire the many beautifully decorated, historic homes in downtown Bowling Green. Winners of previous Landmark Association Christmas Tour of Homes can be seen at 1302 State Street, 938 Parkway Street, and 632 East 13th Avenue, or check out the website for this year's map with voting taking place Dec. 11-19. 
We wouldn't be home to the Corvette if you couldn't view Christmas lights on a racetrack! Race to the NCM Motorsports Park for Twinkle at the Track (TEMPORARILY UNAVAILABLE DUE TO STORM DAMAGE AS OF 12/11/21), a drive-through lights display featuring nearly 2 miles of gorgeous lights.  Conveniently located right off I-65 at exit #28, this event also offers several special nights and lasts through New Year's Day (closed December 25).  
If you want to head out for "Christmas in the Country" check out Santa's Lookout Holiday Lights, located 13 miles out Cemetery Road, where a Christmas experience awaits on weekend evenings in December and nightly December 20-26. After cruising through the scenes, costumed characters and glittery lights displays, continue the festivities in the pavilion with plenty of space for distancing.
Create holiday traditions and browse the Christmas lights at The Barns at Triple J Farm, a private residence and working farm. You may also grab gourmet hot chocolate from their crafted stand and shop in their Christmas square. This event also requires a ticket and their lights are viewable for a limited time during the weekends of December 3-4 and 10-11. Get your holiday hustle on in order to snag a spot and witness their lights.
Looking for another local perspective when it comes to Christmas lights? Speed towards 818 Vance Lane for the Cherry Family Christmas Lights. Every night in December from 5-9pm, back your car in by the DITTO sign and tune your radio to 88.7 FM to witness the lights dance to the music. If you arrive on a Friday or Saturday, you may walk through the backyard to witness more lights and enjoy free hot chocolate, coffee, candy canes, cookies and popcorn. Additional information is on Facebook here.
MORE BGKY HOLIDAY HAPPENINGS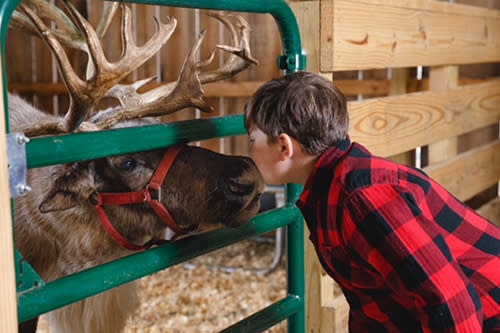 Searching for more holiday fun? We've got you covered. Pet a reindeer and enjoy family time at The Reindeer Farm, test your athleticism at the SoKY Ice Rink or catch a holiday flick at SKyPAC or The Capitol. If none of that is ringing your silver bells, visit our holiday-themed event page for more December happenings or check out our guide to a Christmas season weekend Bowling Green style. Oh yeah, and be sure to check out our BG-inspired Gift Ideas blog post or our #MyBGKY Experiences Guide!
---
We hope you enjoy your holidays and we know your time here in Bowling Green, KY will be wonderful. If you plan on exploring Bowling Green during December give us a shout! Tag us @VisitBGKY (Instagram, Twitter and Facebook) and be sure to use #VisitBGKY on all posts. If you are wanting to know more about Bowling Green outside of what goes on in this town during the holidays, sign up for our newsletter! Happy Holidays!