From author and women's suffragist Eliza Calvert Hall to the infamous madam Pauline Tabor, Bowling Green has cultivated some pretty gutsy women. In honor of Women's History Month, we called on some of our favorite female entrepreneurs to share more about their businesses and love for BGKY. 
Barbara Stewart Interiors 
One of Bowling Green's most established small businesses is a second-generation woman-owned establishment. Barbara Stewart Interiors started inside the College Street home of its namesake in 1952 with daughter Susan Hoechner underfoot. The business grew and moved to its current spot on Main Street, where it overlooks historic Fountain Square Park. Susan took over ownership in 1994 and worked alongside her mother until Mrs. Stewart passed away in 2016. 
Bowling Green residents turn to this shop for fine gifts, frames, engraved items, gourmet foods, and interior design. Under Susan's guidance, the store has expanded its offerings and specialties to accommodate the growing city. In 2019, Susan was recognized by Home Accents Today as a "Lean In and Lift Up" Successful Woman in retail alongside female corporate CEOs, presidents and entrepreneurs. The same year, Barbara Stewart Interiors was named a 2019 Retail Star, marking the fourth year the company received the honor.
In 2018, Susan was named Marketer of the Year by the Professional Marketing Association of Bowling Green for her work as a business owner, marketing professional and community mentor. 
"I'm honored to call Bowling Green my home," Susan says. "As a new WKU graduate, I started my interior design career elsewhere, but I always knew I would establish my roots right here. I aspired to work with my mother in the family business since I was a young teen. I saw the love that she had for her work and her devotion to her patrons, and I knew that I too wanted those qualities in my own endeavors. We have organizations like our Chamber of Commerce and the KY Small Business Development Center to thank for providing outstanding assistance to small businesses like mine. Their services make entrepreneurs' dreams become realities. I look forward to the opportunities that will enhance and grow our businesses along with our growing city."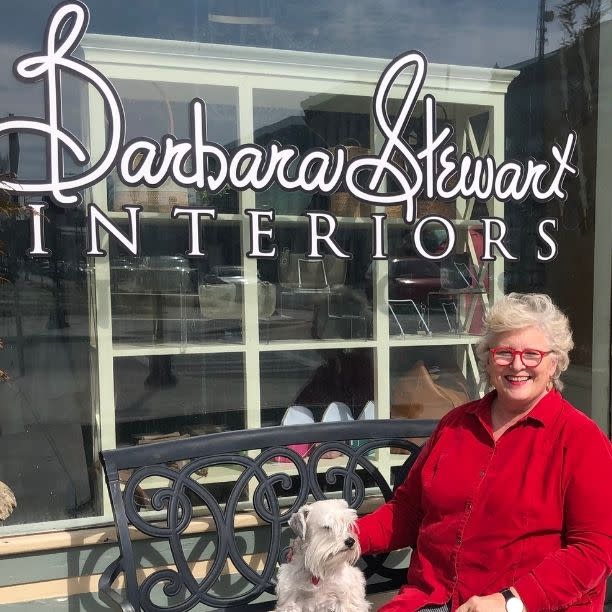 Susan Hoechner 
---
Be Happy Yoga & Salt Cave
If wellness is on your mind the next time you visit Bowling Green, then a trip to Susan Polk's Be Happy Yoga & Salt Cave should be on your itinerary. Susan opened the studio with her husband in May 2016, offering a variety of health and wellness offerings. The salt cave, which features six tons of Himalayan salt, is the perfect place for a guided meditation session to help you relax — and there are also some respiratory benefits to spending time in the salt cave. 
Susan and her crew also offer massage therapy and yoga classes — both in and out of the salt cave. Be Happy Yoga frequently hosts specialized workshops, and Susan leads classes for people interested in becoming yoga instructors themselves. Recently chosen to film yoga classes at resorts for Silver & Fit, a digital format of the Silver Sneakers program, Susan can soon be seen on Silver & Fit International's Facebook and YouTube channels. 
Susan says that being part of the Bowling Green community has changed her life. 
"It was here that I opened my business, Be Happy Yoga & Salt Cave, in May of 2016, and I couldn't have done it without the encouragement of the people in this city. It is first my sweet, supportive husband who gets credit for pushing me forward and telling me that I was ready to open my own studio, and in the community — friends, my church group, acquaintances, even strangers — who also kept showing up to my yoga classes around town who all encouraged me. I have found time and time again that Bowling Green is full of people who are ready to lift up and support those around them. If you have an idea, a dream, a passion — like I did — the people of Bowling Green are ready to show up and help you make that dream a reality."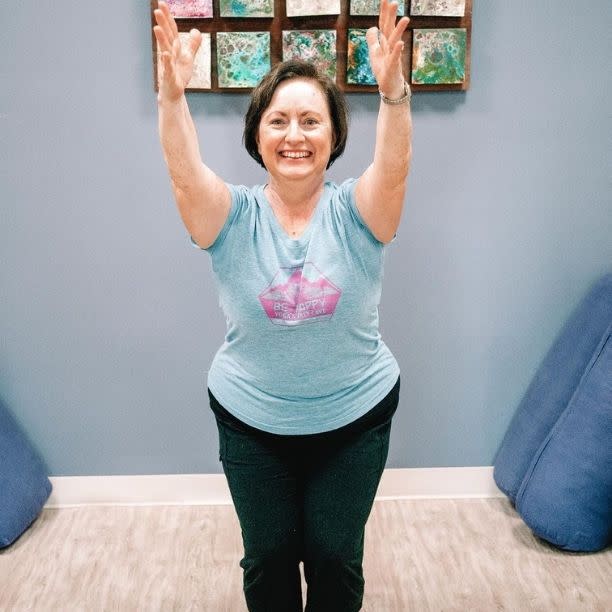 Susan Polk
---
GypsyMoon Marketplace
Are you in the market for vintages pieces, handmade wonders, or home décor? If so, the woman-owned and produced Gypsymoon Marketplace at Highland Stables is the perfect excuse to visit Bowling Green. Created by mother-in-law/daughter-in-law duo, Angie and Whitnee Mosley in 2015, GypsyMoon Marketplace is a semi-annual, juried barn sale held inside of the stables, and it hosts 80 talented artisans, makers, and curators from Kentucky and surrounding states. The Mosleys have teamed up with pal Kaleighn LaBore to grow Gypysmoon. 
Angie Mosley owns Highland Stables, a former horse equine boarding and training facility, and she converted the venue to a popular event space that can also be rented for weddings and other events. The Gypsymoon Marketplace is definitely a Highland Stables signature event, and the spring sale is April 29-30, 2022. 
The barn sale showcases handmade, homemade, vintage, and home décor items. The one-of-a-kind experience includes live music, live demonstrations, and food trucks. GypsyMoon is a Kentucky Proud event, and the majority of the businesses they accept as vendors are also women-owned. The market was named a top 10 indoor market by Flea Market Decor magazine.
"We love Bowling Green," say the women behind Highland Stables. "They have trusted us with hosting their most special life events. They have embraced Gypsymoon Marketplace and love it almost as much as we do. Last year was certainly a challenge but our community never wavered."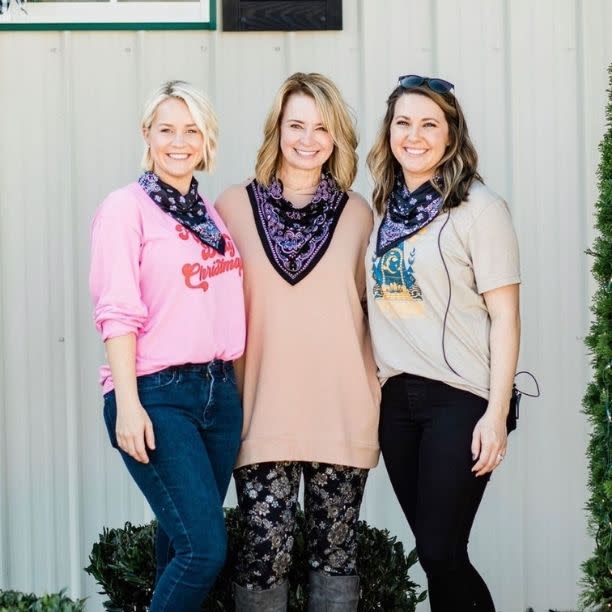 From left, Whitnee Mosely, Angie Mosley, & Kaleighn LaBore
---
Little Fox Bakery
A mother/daughter team are behind one of Bowling Green's most popular bakeries. Diane and Alison Taylor launched Little Fox Bakery a couple of years ago and moved into a new home on Park Row overlooking Fountain Square Park. Alison is the mind behind these delicious treats, while Diane handles business operations. 
Little Fox Bakery is a small, artisanal shop that offers a modern twist on traditional treats. The main attraction is its cupcakes, which range in flavors from classic vanilla to roasted red bell pepper to honey and sage. Cookies, scones, muffins, homemade pop tarts, macarons, and pie-by-the-slice each Friday round out the lineup. Little Fox also offers gluten-free and vegan options, as well as custom orders. 
Alison's family also has deep roots in downtown Bowling Green businesses. Her paternal grandfather was a jeweler at downtown mainstay Morris Jewelers, which is just across Fountain Square Park from the bakery. Her maternal great-grandparents owned a furniture store on East Main Street. And Little Fox Bakery fits perfectly into Bowling Green's downtown scene. 
"The people of Bowling Green have helped us in countless ways," says Diane. "Folks who met us at the first Pride Fest became some of our most loyal customers after we opened. When we relocated from our first spot on East Main to our current spot on Park Row, friends and fellow business owners from the Square did ALL the heavy lifting for that job. And most recently, we received generous Covid grants from the city. We feel very loved here!"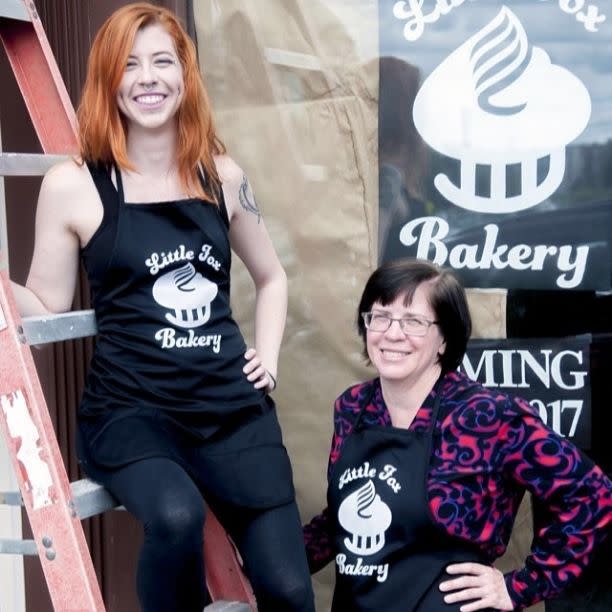 Alison & Diane Taylor
---
Pie Queen of Bowling Green
Keep an eye out for the pie wagon if you want some of the sweetest treats in Bowling Green. The colorful wagon is the newest avenue Brie Golliher, the Pie Queen of Bowling Green, is using to get her pies, sammies (sandwich cookies) and other delectable desserts out. 
The Pie Queen of Bowling Green bakes her dishes out of Boyce General Store, which she and her husband own that is open for special events and group gatherings, as well. Brie also collaborates with other area makers and growers on "Let's Stay In Date Night Boxes" that promote shopping and eating local. 
Brie ships her products nationally, and items like the SurPIEval Box are the perfect sweet treat for friends and family. Boyce General Store and The Pie Queen have been featured in Where Women Cook, Southern Living, USA Today, Country Living, and Garden & Gun, along with regional shows and cookbooks.
"The Bowling Green community has made it possible for me to live out my dreams because their support is unending," Brie says.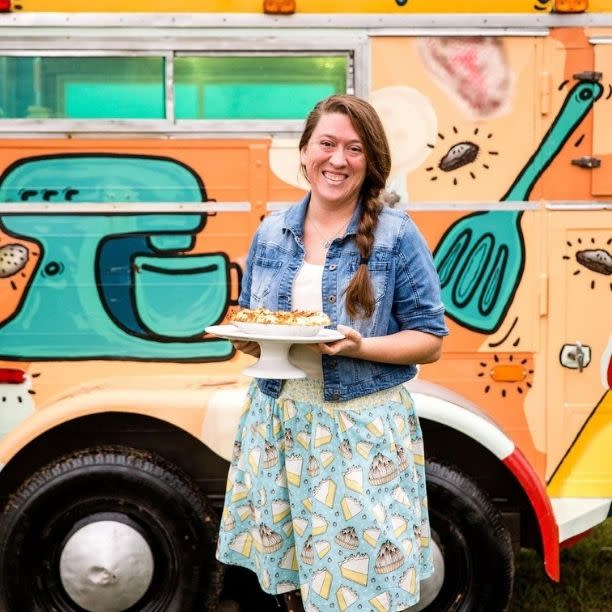 Brie Golliher
---
We hope these ladies' legacies live on for many generations and continue to inspire other small-business owners, regardless of gender!
Stay in the know on all things Bowling Green by subscribing for our monthly e-newsletter. Need help planning your next BG adventure? Request a Visitors Guide or download our Visit Bowling Green app to have information right at your fingertips.