Written by Kathy Witt
Bowling Green, Ky. - June 9, 2011 - Catastrophic events that occurred 15 to 20 years ago and more than 5,000 miles away from Kentucky have enriched the culture – and the restaurant landscape – of Bowling Green, the state's third largest city located in the south-central reaches of the Bluegrass.
As war gripped the Eastern European nation formerly known as Yugoslavia in the early 1990s, Bosnian, Croatian, Kosovoan and Serbian refugees began immigrating to several countries, including the United States, with many of them settling in Bowling Green. The appeal of the town known as the "Corvette Capital of the World" was threefold: It has an International Center that offers resettlement and assimilation services; it is, according to Marissa Butler of the Bowling Green Area Convention & Visitors Bureau, proactively refugee-friendly; and it has a small-town sensibility ideal for putting down roots, raising a family and – as one emigrant put it – living the American dream.
"These people didn't have to give us anything, but they gave us everything," said Bosnian native and owner of Verdi Restaurant and Bar, Mirza Osmanovic, of the people of Bowling Green. "Here in this country it doesn't matter that I have an accent, that I look different – as long as you show you're a good person, they'll take you in and you have the same rights."
Today, these emigrants make up nearly 10 percent of Bowling Green's population of 58,067 – and Eastern European-owned eateries, the majority of which are Bosnian-owned, have grown exponentially to include eight restaurants. Influenced by the gastronomy traditions of Central, Western and Eastern Europe, the dishes reflect a mélange of culinary cultures – Greek, Italian, French, German and Mediterranean.
The restaurants range from casual to fine dining and include one with a nightclub, one with a bakery and one with belly dancing. Additionally, there are three grocery stores serving not only the various ethnic populations but all those who find themselves in Bowling Green, residents and visitors alike. It is a delicious cross-cultural melting pot of foods, flavors, and fun.
Several of the restaurants are located on Bowling Green's picturesque town square. Anchored by the lush two-acre Fountain Square Park and lined with fun poke-around places like The Pots Place (a six-potter co-op), Candlemakers on the Square and Barbara Stewart Interiors on Main, a lovely hodgepodge of gift items, trendy jewelry and gourmet foods in addition to home furnishings and accessories, this historic square makes a charming backdrop for unhurried dining.
Nip beneath the black awning at Verdi's to find a linen-draped eatery with tin ceiling, stone columns, soft lighting, and fireplace. For mild afternoons and evenings, tables flanking the front door give a front row seat of the goings-on at Fountain Square Park. The menu is an internationally spiced tour de force with Bosnian, German, Greek, Italian and American dishes: Bosnian-style lepinja bread, German sauerbraten, Greek souvlaki, spaghetti Bolognese and, unexpectedly, a Kentucky Hot Brown, which according to Osmanovic is based on the original recipe – open-faced turkey sandwich with bacon and a delicate Mornay sauce.
The more casual Greek-inspired A Taste of Europe Café, owned by Izet Varajic and Sefika Varajic, both originally from Bosnia, is known for its authentic gyros. Diners can sit at comfy booths beneath soft blue murals, including one of Lady Liberty, and watch Izet Varajic shave the gyros cone, which is comprised of beef and lamb.
"Our single most popular dish is the Authentic Gyros Plate, followed by the gyros and chicken gyros sandwiches," said Izet and Sefika's son, Dino Varajic, who manages the café. "Some of our signature dishes include moussaka and cevapi, a dish of Bosnian decent that is composed of five little sausages wrapped in pita bread and served with raw onion and tzatziki sauce." (Tzatziki sauce is strained yogurt blended with cucumber, dill and other seasonings that are always served chilled).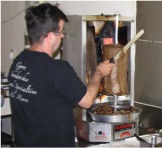 The restaurant has garnered a dedicated following from Bowling Green as well as the surrounding community – one that comes to the square on weekends specifically to eat at A Taste of Europe. "When we came to this country 13 years ago as refugees, we were completely unaware of the response we would receive from the people," said Varajic. "To our surprise, it was a warm welcome and we are extremely thankful for it."
There are several other eateries on or near the square, each with a unique character and ambiance, including Entourage Tapas Bar and Lounge, which is owned by native Bosnian Boris Vignjevic. Its exposed brick interior warmed up with plush sofas and a bar splashed with colorful tile, Entourage is made for relaxed and chummy gatherings – especially when you factor in midweek two-for-one Happy Hours and a weekend nightclub atmosphere with DJs spinning hits into the wees.
Entourage serves up small plates created by award-winning chef Jeremy Ziakas. Describing the menu as a modern American interpretation of a Spanish tapas bar, Ziakas offers traditional and non-traditional hot and cold tapas, including cheese fondue, bacon-wrapped dates, beef Carpaccio, ceviche, chicken satay with Asian spices and petite lamb chops topped with mint pesto and wrapped in phyllo dough.
The Bistro, inside a century-old building, has a tranquil air and burnished color palette splashed with color via the works of Russellville, Ky., artist Brenda Brown. Its Bosnian owner, self-taught chef Sasha Mandrapa, was inspired to come to Bowling Green by an uncle whose dream was to live in America. He calls food his hobby and, while he changes the menu just once a year, daily lunch and dinner specials allow him to show off his culinary prowess.
"When I go out to eat I want to be challenged with the menu," he said. "But you still have to have the classics."
Entrées are thoughtful, rich and creative – chicken with a champagne leek cream sauce with Langostino lobster meat; salmon stuffed with crab meat and sauced with lemon butter; filet rolled in crushed peppercorns and topped with gorgonzola cognac cream sauce; a variety of pastas and pizzas, salads and appetizers, including a baked olive and feta cheese dish that is pure comfort food in its house-made marinara sauce.
At The Brickyard Café, Bosnian immigrants Zeljko Simic and Robert Stupar deliver the tastes of the Adriatic within their historic restaurant, an Italian trattoria with charming garden seating and a mural in the main dining room that depicts the north coast of former Yugoslavia – a region heavily influenced by Italian cuisine. The menu consists of fresh seafood, homemade bread, desserts and gourmet pizzas baked daily in the brick oven. Signature dishes include cannelloni, spaghetti, and lasagna; "Bluegrass classics," like catfish and pot roast, are given a Brickyard twist in both preparation and presentation.
Not far from the downtown area and tucked into a corner of a strip center is Anna's Greek Restaurant. Step inside and you immediately feel removed from the hustle-bustle, with linen-draped tables, vine-covered columns and windows softened with arched cornices and flowing drapes. It is a space designed for dinners that linger and evenings of belly dancing (Thursday nights), with many a meal beginning with an order of the showstopper house special, OPA Saganaki – flaming Greek Kefalotiri cheese, melted and prepared with brandy – that is brandished amidst cheers and a hearty "Opa!"
With a Greek-themed menu that also dips into Italian, German, French and English traditions, house specialties include Anna's Rigatoni and Arni Youvetci (slow-cooked lamb sautéed with orzo pasta in tomato sauce and flavored with fresh garlic and Greek herbs). Favorites among diners include Chicken a la Cream and the secret recipe Schnitzel Viennese (pork tenderloin). Anna's is owned by Vilson Qehaja, originally from Kosovo, and his wife, Chef Anna Qehaja, whom he met several years ago while on vacation in her hometown of Santorini, Greece. And most evenings, Vilson may be seen in the restaurant, chatting up the customers, helping diners new to Anna's choose their entrée and delivering the OPA Saganaki with a flourish.
Rounding out the eateries are Alma's Pita & Café, owned by native Bosnian Elvir Salcinovic, and the new Novo Dolce Espresso Bar, Bakery & Grille, which serves up rich and flavorful soups and sandwiches (including seared Ahi tuna and parmesan grilled turkey), plus smoothies, pastries, and desserts. Espresso bar owner Jake Petrovic, originally from Bosnia, has created a Euro coffee house aesthetic and added comfy seating both indoors and out.
The three markets – the International Food Market, owned by Ali Alzuhairi, the International Supermarket, owned by Ali Miah and offering Indian and Bangladeshi catering, and the Mediterranean Market, owned by Nail Cokljit, a native Bosnian – offer shoppers an experience both eclectic and exotic, with homemade breads, foodstuffs from Eastern Europe and beyond, including butters, jams, vegetable spreads and salsas, Bosnian coffee, European chocolates, lots of varieties of tea, spices, fresh herbs and fresh produce from different countries and more. Cokljit added both indoor and covered patio seating at his market so you can order your meal and then enjoy it just a few steps away. Opa!
If You Go
Bowling Green, Ky., celebrates its culinary worldview each year during the International Festival, with dozens of cultures represented. This year, the festival will be held on Saturday, September 24, in Circus Square Park downtown. In addition to its internationally spiced landscape, Bowling Green is home of the National Corvette Museum and the GM Corvette Assembly Plant (behind-the-scenes tours available), the Civil War Discovery Trail, Lost River Cave, and the Historic Railpark and Train Museum, among many other attractions.