The following post is courtesy of guest blogger and food influencer JC Phelps. Learn more about him at the end of the article!
Bowling Green, Kentucky — the land of Corvettes, the inspiration for the hit by The Everly Brothers, home of Lost River Cave, and, of course, Western Kentucky University. Go, Tops!
However, I implore that Bowling Green is also both a culinary destination and a foodie hotspot for the Commonwealth of Kentucky. The epicenter? Downtown, of course!
Fun fact: Did you know that I did my MBA at Western Kentucky University's Gordon Ford College of Business? Living, working, and studying in Bowling Green was one of the best times of my life. It was during this period that I fell in love with the local food scene.
---
It doesn't get more Kentucky than 440 Main. Kentucky dining to me is, at its core, casual. That doesn't mean that it isn't divine; rather, it's unpretentious. 440 Main executes this tradition with style.
The historic building overlooking Fountain Square Park features two restaurants and two menus housed under the same roof. Micki's on Main features live music and a casual bar + grill menu; 440, on the other hand, is an upscale dining room — one without a dress code. The best part? You can order from either menu, regardless of where you choose to sit/what atmosphere you desire that evening.
My meal started with appetizers that would rival any restaurant — gorgeous, full oysters on the half-shell, imported Italian burrata cheese, and bacon-wrapped dates, stuffed with gorgonzola and finished with a balsamic reduction.
For the main course, I chose the Grouper Louisiana, a favorite of mine for years. Plated is an oversized piece of fried grouper, served over jalapeño cheese grits and topped with crawfish étouffée. My dining companions had two of the listed specials that evening — one being seafood and the other being a full-bodied pasta. Both were delicious and we all left with empty plates.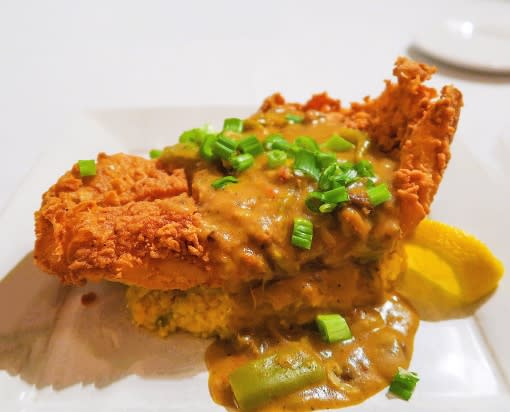 Grouper Louisiana 
---
Whether you are visiting for lunch or dinner, make sure that Gerard's 1907 Tavern is on your dining list when you visit Bowling Green. Located adjacent to Fountain Square Park on College St., Gerard's is a small, cozy, intimate dining experience — perfect for a date night, meeting up with friends/family, or your colleagues from the Hill.
Something that stuck out to me is their partnership with Rian's Fatted Calf Meat Shoppe, a local favorite from which they source fresh produce and collaborate on unique, mouthwatering burger blends. There's something special about local businesses supporting other local businesses — community over collaboration, always.
For lunch, I started with one of the richest, most delectable cups of French onion soup that I have ever had. Topped with gruyere cheese, this soup packed a flavor worth writing home about. I also had the wedge salad, which was uniquely finished with pumpkin seeds, bacon,  and bleu cheese, and the Nashville Hot Chicken sliders — a regional favorite.
If you dine at Gerard's 1907 Tavern, you will most likely hear about their burgers — and with good reason. My favorite is the GT Burger, which boasts Henry Bain Sauce, smoked gouda, house cole slaw, tobacco onions, and a brioche bun.
I love any dish served with Henry Bain Sauce, which is a classic Kentucky condiment created by Mr. Bain, a past maître d' at Louisville's exclusive Pendennis Club.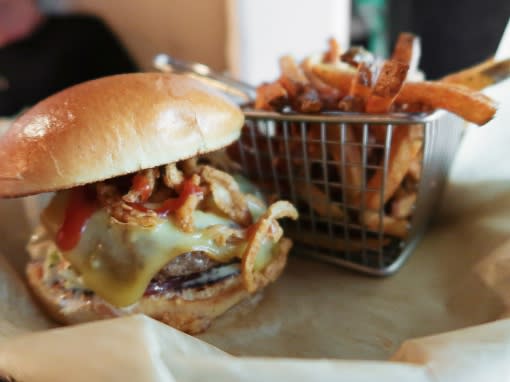 GT Burger 
---
There's no better place to finish a culinary tour de Bowling Green than at The Bistro, another favorite of mine. A couple of blocks down from Fountain Square Park is a Kentucky food oasis — a one-of-a-kind dining experience in the historic, restored 1893 Fletcher House. Locally-inspired, high-end, yet very comfortable — The Bistro is a shining star of the 270 region.
To start, I had one of the best appetizers of my dining career: fried green tomatoes, topped with pimento cheese and a burnt end. It doesn't get more southern – or delectable – than that.
Yet again, I couldn't resist the bacon-wrapped dates — a favorite of mine. The rich, soft dates are stuffed with a smooth, gorgonzola cream cheese filling. They were only made better by the addition of salty, crunchy bacon. Don't miss these, y'all!
The specials at The Bistro are different than most restaurants; they are included on the menu as staples, such as the filet mignon and the scallops, but they vary on a daily basis. This is a culinary move that I deeply respect – and one that makes me excited to dine there time and time again.
I chose the filet mignon, which is my usual choice when dining at The Bistro. That night, it was resting on delicious asparagus and Yukon Gold potatoes; better yet, it was topped with gorgonzola butter.
After such a fabulous meal, I had to finish with dessert — a peanut butter crème brûlée. It was as amazing as it sounds, I assure y'all.
The Bistro offers southern flair, high-end dishes, all served up in that comfortable Bowling Green atmosphere that all will come to love.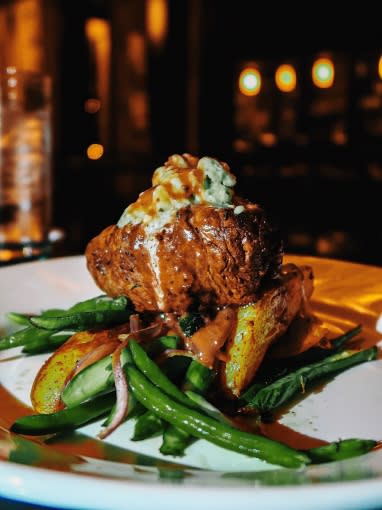 Filet Mignon
---
Culinary adventure awaits in the Commonwealth of Kentucky; if your plans do not include a stop in Bowling Green's Downtown area, your palate will be missing out. From casual favorites to high-end selections, all diners will come to Bowling Green excited and leave elated, full, and eager to return.
As always: Happy Eating, Happy Traveling, Happy Living.
Y'all come back now, ya hear?
FTC: This is a commissioned post; all opinions, however, are my own.