We have green in our name — so you know that Bowling Green is a community that is geared for outdoor adventure. Whether you want to explore southern Kentucky's caves, play a round of golf, or experience the beautiful Warren County countryside from your road bike, we have something you'll enjoy - naturally! 
Caves
It wouldn't be a trip to South Central Kentucky without checking out some of our caves. Bowling Green is home to Lost River Cave, featuring the only underground boat ride tour in the Commonwealth. Online ticket reservations are strongly recommended as they sell out fast. One of Bowling Green's top attractions, this 66-acre nature preserve also features some awesome hiking trails, more about that below.
Mammoth Cave National Park, the world's longest-known cave, is about 30 minutes north of Bowling Green. MCNP recommends purchasing tickets in advance at recreation.gov — that way, you can download them to your phone or print them at home and avoid lines in the Visitors Center and they also sell out very quickly.
Mammoth Cave National Park. Photo by andinsgems on Instagram
Hiking Trails
Shanty Hollow Lake, in northern Warren County near the Edmonson County line, is a great option for people looking for a morning or afternoon hike with scenic views — including a popular waterfall. 
If you're looking for a trek closer to the city, Lost River Cave's nature preserve is just a few miles from downtown Bowling Green and features wooded trails across the valley with some taking you right along the blue holes or the natural spring. Additionally, the nature trail at Chuck Crume Nature Park offers a quick escape right near Western KY University.
Additionally, you can do more than explore underground when you visit Mammoth Cave National Park. There are nearly 90 miles of trails above ground that you can discover by hike, bike or horseback.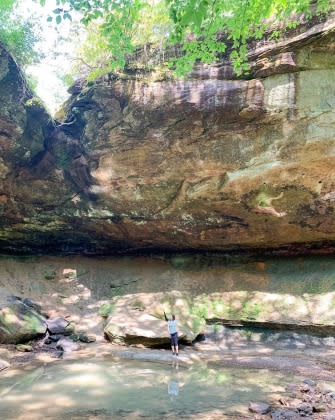 Shanty Hollow Lake Hiking Trail. Photo by thebrownandbabes on Instagram.   
Cycling
Explore the beauty of southern Kentucky on U.S. Bike Route 23. It rolls through several Kentucky counties, including Warren. The route takes you near several small Warren County communities, including Oakland and Smiths Grove as it eventually winds its way through the splendor of Mammoth Cave National Park.
If you're not quite comfortable with a major, road cycling adventure, we have some enclosed routes in Bowling Green, as well. Every Tuesday night in June-September, you can bring your bike, scooter, or skateboard to Trek at the Track at the NCM Motorsports Park. Experience the 3.2.-mile curving road track without the roar of engines — you can even walk on it.
You can also take your bikes on our Recreational Greenways — you can follow the Greenways from I-65, exit 26 on Cemetery Road through Kereiakes Park down to Riverwalk Park, or enjoy Lost River Cave's paved trails that are part of the system.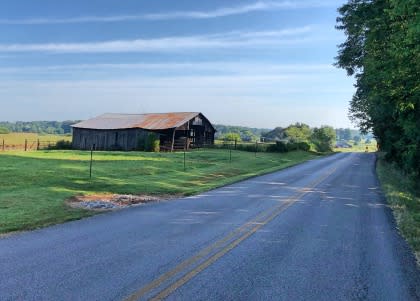 U.S. Bike Route 23 on Whitlock Road at Plano Road. Photo by Eddie Bruner.
Waterways
Do you love paddling? We have plenty of places for you to explore on the Blueways of Bowling Green. You can download a Warren County Blueways map here for put-ins around the county, including on the Green River, Barren River, Gasper River, Clear Fork of the Gasper River and Drakes Creek.
If you're looking for a couple of natural places to swim and cool off, there are good swimming holes in Bowling Green near the water access points at both Romanza Johnson Park and Phil More Park.
Is fishing more your speed? Shanty Hollow Lake, Basil Griffin Park, and the KOA pay lake are all great options for a leisurely day in nature.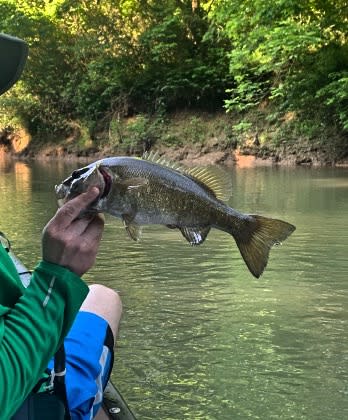 Fishing on the West Fork of Drakes Creek. This and dominant blog photos by Steve Whitledge. 
Golf
If you need a day on the links, we have three city golf courses for you to choose from: Crosswinds, Paul Walker at Covington Woods Park and Hobson Golf Course & Driving Range. 
Did you know that Bowling Green is home to two, professional, Hall of Fame disc golfers? Check out our blog on Dr. Rick and Sylvia Voakes — learn more about both this talented couple and the sport. We have eight disc courses in the county.
We know you're going to need some places to eat and sleep after you've spent a day or two exploring Bowling Green. Click here to request a Visitors Guide and sign up for our monthly e-newsletter.