From fresh produce and meat to baked good and crafts, our three, area farmers markets are welcoming to both residents and visitors alike. Open several days a week, our farmers markets are a great opportunity to shop local and support small, family businesses. You might even find a food truck or two on site, which will help you fuel your shopping. 
Original Bowling Green Farmers Market
This market has been a BGKY staple since 1968, according to its Facebook page. Open from 6am-sellout on Tuesdays, Thursdays, and Saturdays in March-November, you'll find a wide a wide selection of produce, bedding plants, flowers, and baked goods. There are friendly faces at the booths of this easy-to-find market, situated in the front parking lot of a shopping center in the 1700 block of Scottsville Road. 
You can shop year-round at this indoor store on Nashville Road featuring produce, jewelry, meats and more. The Community Farmers Market is open from 2-6pm on Tuesdays and 8am-1pm on Saturdays. You might also find a special event taking place on Saturdays, such as the Little Buds Kids Club, a yoga class, or a visiting vendor who will do a demonstration. 
Bowling Green's downtown farmers market features an outdoor market from 8am-1pm on Saturdays, as well as the adjacent Crop Shop, open from 3-6pm on Tuesdays and Thursdays in the Historic Venue on 7th. You'll often find a couple of wineries here on Saturdays, as well as florists, meat producers, craftspeople and farmers. The SOKY Marketplace hosts special events, including a summer movie series and specialty demos.  The Saturday farmers market moves inside the Crop Shop during the colder months.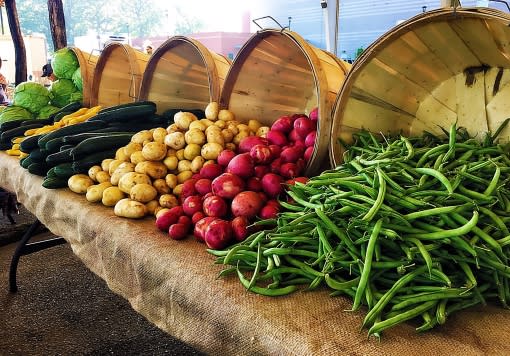 We are proud of the caliber of farmers markets that Bowling Green has to offer. After a trip to a farmers market or two, you might be interested in visiting one of our other wonderful agritourism destinations in Bowling Green/Warren County. We love showcasing the businesses who help get food to our tables!