Some of the sweetest, most popular treats in Bowling Green are royally made by a queen with long ties to Warren County and her team of "queenies." Her kitchen nestled in the historic Boyce General Store in Alvaton, Brie Golliher has spent years dreaming and creating to making baking her reality.
Brie's dream has been to own a bakery since she was a child. In 2012, she and her husband, Brad, decided to purchase Boyce General Store near Brie's childhood home — where her family has lived for six generations — where Brie could have the space to bake her delicious pies, sammies (sandwich cookies), cinnies (cinnamon rolls) and other delectable treats as the Pie Queen of Bowling Green. The couple then turned the general store into a full-service restaurant.
Boyce General Store became a destination for Warren County residents and tourists alike, with the couple hosting catfish "Frydays" and summer concerts. Their sons, Brady and Bryce, have grown up in the general store, and people felt the family's warmth and hospitality at every meal.
Like so many others in the restaurant and hospitality industry, the challenges the pandemic brought in 2020 had Brie questioning her priorities and her dreams — and the family closed Boyce as a full-service restaurant.
"After struggling to survive during covid, we decided to find more joy in life," Brie said. "That meant rethinking how we do business and what was most life giving for me is baking. While I'm positive people miss the restaurant food, I know that they can taste the love I put in my pies and see that I'm truly happy."
Brie and Brad partnered with local artist Andee Rudloff first to paint a mural on the side of the general store itself — and then to brighten up the Pie Wagon, Brie's new vessel for pie selling.
You'll find the Pie Wagon around Bowling Green and surrounding areas several times a week. She's a fixture at the Community Farmers Market on Nashville Road on most Saturdays, and you'll find her at local businesses around Bowling Green throughout the week.
"I love how excited people get when they see the Pie Wagon in person," Brie said. "Local artist Andee Rudloff really brought so much joy to the wagon that it just makes everyone happy."
Brie is a staple at the Gypsymoon Marketplace, a popular vendor show held in April and November at Highland Stables, and Brie occasionally takes the Pie Wagon to out-of-town vendor shows. Boyce General Store itself has been transformed to a bakery and gift shop, and it is open most Saturday mornings for visitors.
Brie has so many pies to choose from that it's hard to pick just one flavor. Kentucky Pies are her spin on the classic pecan pie with chocolate chips and bourbon. Her Nest Pie is gluten free and features a coconut crust and chocolate filling (it even won the Duncan Hines Festival's baking contest several years ago). Her sammies feature delicious cream fillings, and on Saturdays, she brings out her cinnies. You can also find the occasional savory option, such as her pimento cheese pies.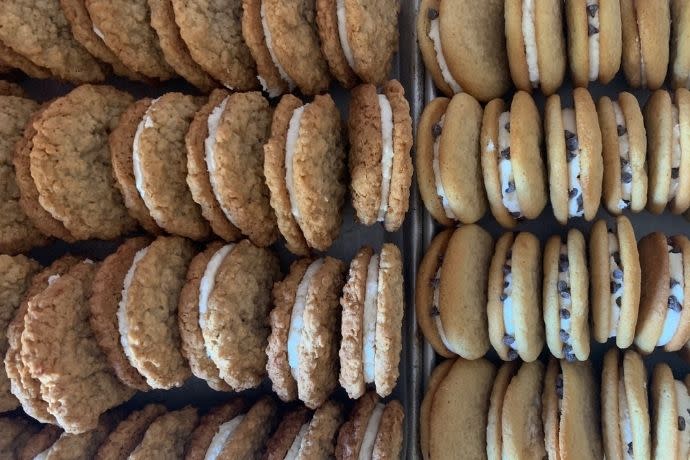 And, as much as Brie bakes, she does have a few favorites.
"I love peanut butter so it would be the PBSquared sammie or the Pb& Fudge mini," she said.
Visitors to Bowling Green came to love Boyce General Store, and many of those customers still support her business today through her online store. Brie also offers baking classes at Boyce General Store — perfect for groups looking for unique birthday celebrations, girlfriend getaways, and employee team building activities in Bowling Green.
"Partnering with tourism has helped me reach visitors, that — thanks to online shopping — have become regular customers from far away," she said.
You can find most of Brie's treats at burgerandpies.com, where she often collaborates with other small business owners from the region on gift boxes that can be shipped around the country. She also partners with local vendors on "Let's Stay In Boxes" that need to be purchased locally.
"Collaboration makes me so happy," Brie said. "I love being able to share other small businesses with my amazing customers. I've found that supporting other businesses helps everyone. Collaboration over competition is my goal in life."
Keep up with where Brie will have the Pie Wagon by following her on Instagram and Facebook. To stay in the know on all things Bowling Green and learn about other area hospitality businesses, subscribe to our monthly e-newsletter. You can also Request a Visitors Guide to help plan your next BGKY trip.