Walking into Taqueria Los Vazquez is almost like walking into your mother's kitchen. The smell is captivating and everyone that is present is chatting with each other. The restaurant just opened and we sat down to review the menu. Customers are either waiting to order or waiting on their food, people move from table-to-table saying hello to one another. It's busy but peaceful and welcoming. And that is Dora's goal. Dora, full name Eleodora Alarcon, is the owner of Taqueria Los Vazquez and it is truly what one would call family-owned and operated.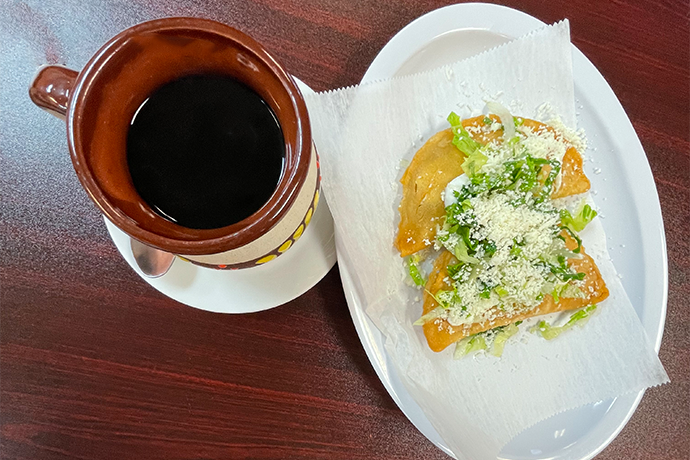 Dora always worked in small, family businesses while living in Mexico. Veracruz to be exact. When she moved to Bowling Green in 2005 she said the beginning was very difficult but she always knew she wanted to start a family business of her own in Bowling Green. After working at Chick-fil-a for 11 years and with the support of her daughters, Dora opened Taqueria Los Vazquez. Her family means everything to her and she wanted something they could all do together. I asked what they do when they aren't working together and it was a very simple, yet heartwarming answer, they share their lives together. Dora and her husband have three daughters and two sons. Dora's husband had worked for Southern Recycling for 17 years but as her restaurant got busier and busier, he ended up leaving to help her at Los Vazquez. Any customer could see why, people don't stop walking in and the drive-thru stays with a car. 
A typical day for Dora begins between three and four in the morning and she usually doesn't get home until nine or ten at night. Her cooking takes a lot of time, it is fresh and she makes everything from scratch. She doesn't cut corners and uses the best ingredients. She makes empanadas that are particular to where she's from in Veracruz. She said there are many varieties of empanadas but we can confirm these are the best. She recommends her enchiladas or chilaquiles for first time customers. We ordered the Salvadoran pupusas and the Honduran tajadas and will definitely be ordering again. As Dora spoke about her food her smile never left her face.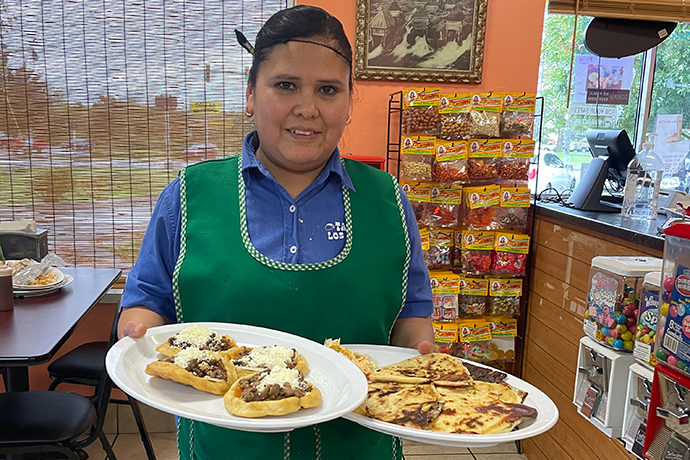 When I asked her if she missed Veracruz she said not really, Bowling Green is her home now. She said what she loves most about Bowling Green is how easy-going and supportive everyone is. With tears in her eyes she continued to say how thankful she was for all of the opportunities she's been provided since she moved in 2005.
At this point in our conversation the tables have filled and she has to get back to the kitchen to help her daughters. Everyone knows each other. Everyone is conversing. It's just like walking into your mother's kitchen. Customers aren't just customers at Loz Vazquez, they are sharing life together.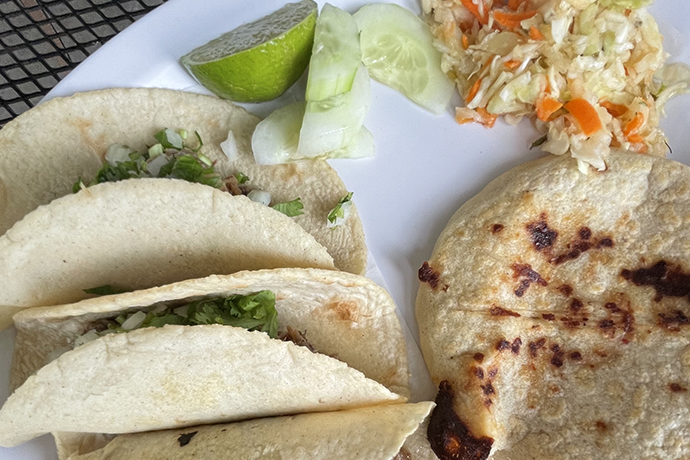 You can't visit Bowling Green, KY and not take part in the tastiness that Taqueria Los Vazquez offers. Check them out while you are in town! 
Taqueria Los Vazquez | 850 Morgantown Road | (270) 495-1030
Recommended dishes: Pupusas, enchiladas, chilaquiles and tajadas.
---
Stay in the know on all things Bowling Green by subscribing for our monthly e-newsletter. Need help planning your next BG adventure? Request a Visitors Guide.