Pay attention as you are driving near Western Kentucky University. You may miss the blinking, colorful LEDs that surround the windows but don't you dare miss the deliciousness that is located in that place of business. Across the street and over the railroad tracks from WKU you will stumble across Zogham Khai. Located in what one would call a 'strip' of shops, the restaurant used to be a bookstore for university students. Now, students have gone from paying for books at that location to paying for yummy Western Myanmar dishes. 
From Pad Thai to an assortment of curry dishes, the owner, Lian Suan Khai, says his restaurant is a favorite amongst the local Burmese community as well as college students. Upon entering the establishment, traditional Asian music fills your ears and the smell of curry takes over your nose. Myanmar traditional pictures hang on the walls and for a split second you may forget you are in Bowling Green, KY. The owner's goal is to immerse you in his culture while enjoying his food and he really wants you to order a Thai tea while there as well. When meeting Khai you immediately notice his spirit is humble and kind. He speaks about his restaurant and his life in Bowling Green with a smile across his face.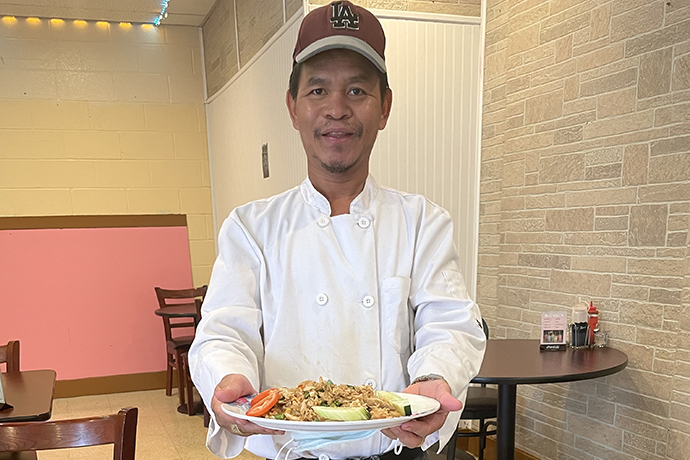 Khai can remember joining his mother and grandmother in the kitchen from a very young age. He grew up in Burma (Myanmar) and food is what his family gathered around. He can remember always wanting to open a restaurant of his own. He had no idea he would be doing so in Bowling Green.
In 2009, Khai and his wife were amongst the 109,000 Myanmar refugees to arrive in the United States between 2008-2014. He worked in various restaurants and honed his cooking skills and opened Zogham Khai, with his wife, in Bowling Green in 2018. 
Zogham Khai has become a comforting restaurant filled with people that grew up in Burma and people that grew up in various towns in Kentucky. From students to grandparents, Zogham Khai's food brings people together. Khai's love and hardwork spills into his dishes and that's what makes them so special. Khai definitely has his favorite dishes but wanted to reiterate that it is not Chinese food. It is more Thai-inspired. He said Thai food and his western Burmese dishes compliment each other. He serves both at his restaurant. Khai claimed customer favorites are any of his curry dishes, as well as the Pad Thai. The Zogham Khai fried rice is also highly recommended. He encourages his customers to be adventurous when ordering.
Khai loves and appreciates his customers, Bowling Green and the peacefulness of the community. That peacefulness stays with you as you enjoy your meal at Zogham Khai. Whether it's the Pad Thai, the fried rice or a Thai tea, don't skip out on the restaurant with the colorful LEDs and the loyal customers that were raised on opposite sides of the world from one another.
Zogham Khai | 111 Old Morgantown Rd #200 | (270) 935-5226
Recommended dishes: Pad Thai, Zogham Khai Fried Rice and any Curry dishes. 
---
Stay in the know on all things Bowling Green by subscribing for our monthly e-newsletter. Need help planning your next BG adventure? Request a Visitors Guide.