Leisure travel and summer vacations have certainly looked a whole lot different this year. However, for many Kentuckians, it's offered an excellent opportunity to rediscover your state. You can have quite a fun-filled summer vacation and stay close to home. We are excited to have teamed up with our neighbors at the Kentucky Lake Convention & Visitors Bureau to create a long weekend getaway that's a great mix of slowing down and speeding up! 
Bowling Green 
Start your trip by getting behind the wheel of a new, C8 Corvette at the NCM Motorsports Park, pictured above. Home to a 3.2-mile road course, there are several different options for getting on the track. You can even take a spin with a professional driver. Make reservations before you visit to guarantee the track is available the day you want to visit.
Once you've driven America's Sports Car, head over to the National Corvette Museum to learn more about this classic. New exhibits include the E. Pierce Marshall Memorial Performance Gallery and the Entombed Corvette, as well as a design/engineering exhibit that tells the story of the mid-engine Corvette.
You can even make it a planes, trains and automobiles kind of day by adding the Historic RailPark & Train Museum and Aviation Heritage Park to your afternoon. The RailPark features seven restored train cars you can tour outside the former L&N Depot, which houses the train museum. Aviation Heritage Park features six military aircraft flown by pilots with Bowling Green-area ties.  
Wind down day one with a delicious meal. Families will enjoy Chaney's Dairy Barn. Though it's best known for its amazing ice cream, Chaney's also has a delicious grill. If you're looking for fine dining, try Hickory & Oak in downtown Bowling Green, featuring a menu that is a celebration of modern-day Kentucky and new Southern cuisine. Make a reservation to sit on the patio overlooking Circus Square Park. Find more ideas on where to get some great eats on Bowling Green's Restaurants page.
If you want a thrilling day two of your trip, then head over to Beech Bend Amusement Park & Splash Lagoon, reopening June 29. Known for the award-winning Kentucky Rumbler roller coaster, Beech Bend is a family-friendly amusement park. The Splash Lagoon features a variety of water slides, as well as a lazy river, wave pool and more. Advance reservations are required as crowd sizes will be limited due to social distancing guidelines.  
You can even find nature in the middle of the city at Lost River Cave. Home to the only underground boat tour in the state, Lost River Cave is also a nature preserve with some lovely walking trails. Boat tour reservations are recommended as seating is limited. If one cave visit is not enough, head 30 miles north to Mammoth Cave National Park, home of the longest cave system in the world. Reservations are required for a self-guided Extended History Tour. You can also explore more than 90 miles of trails above ground.  
Other attractions you might want to add to any BGKY getaway include Riverview at Hobson Grove, a Victorian mansion and a historic house museum. Experience art at the Downing Museum, featuring the artwork of Horse Cave, Ky. native Joe Downing. The museum is on the grounds of the Baker Arboretum, which you can also explore. Bowling Green is also known for disc golf, and you can play at any of our eight courses while you visit. For more activity ideas, browse Things to do in Bowling Green.
Kentucky Lake 
After two days of some fast fun, relax with a couple of days at Kentucky Lake — just a 2.5-hour drive from Bowling Green. 
 Kentucky Lake is right in the middle of its summer boating season. With more than 2,300 miles of shoreline, there is plenty of space to enjoy a day on the water while also keeping a safe distance from one another. No boat, no problem! Kentucky Lake features full-service marinas all along the lake offering a variety of boat rentals from kayaks and paddle-boards all the way to houseboats from Kentucky Dam Marina. Boat rentals usually rent for 4 hours or a full 8-hour day, and oftentimes you can add water toys, as well. 
Browse a list of area marinas before you go. While out on the water, follow safety guidelines and be sure to make pit stops at the rock quarry, the sands, or one of many bay areas to swim, tube, wake-surf, among other fun activities.
Day three may be spent on the water, and day four can be spent in our nature!  Land Between the Lakes National Recreational Area is more than 170,000 acres of hiking and biking trails, wildlife viewing and educational opportunities. Check out some of our native wildlife at the Nature Station or the Elk and Bison Prairie, take a step back in time at the 1850s Homeplace Settlement, or enjoy a laser light show at the Golden Pond Planetarium and Observatory. Rocking U Stables at Wrangler's Campground also offers 60 to 90-minute guided horseback riding adventures for visitors. 
The activities and attractions are spaced out all throughout the area, so a little planning is required to make sure that you can accomplish all that you would like to within a day or two. Visit Kentucky Lake's what to do page or go to www.landbetweenthelakes.us for more information on the attractions, including hours of operation, admission fees and safety guidelines.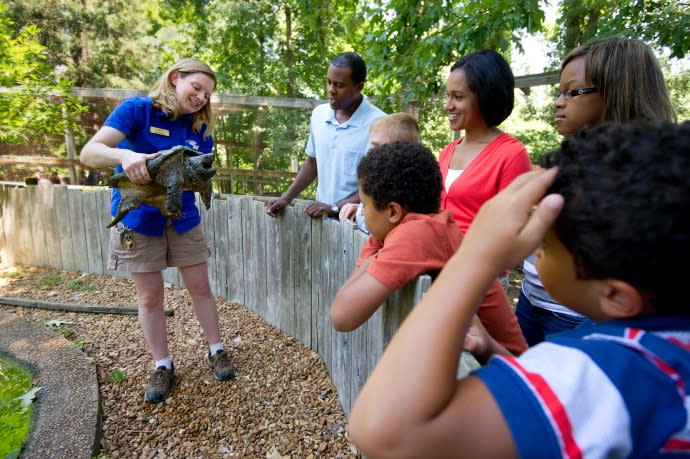 Land Between the Lakes Nature Center

Some other exciting attractions to consider during your stay include a unique souvenir stop at the Hitching Post & Old Country Store in Aurora. Play a round of golf at one of our quality courses, the Kentucky Dam Village golf course or the Calvert City Country Club golf course. But if you're more a putt-putt kind of person, Kentucky Lake has a great little course called Maggie's Jungle Golf. If you're looking for a little more thrill during your stay, try the zip line course and go-karts at Kentucky Shores Family Fun Center and water slides at Venture River Water Park, opening June 29, in Eddyville.

Finish the night off with a local favorite, the Calvert Movie Drive-In. If you're looking for a more adult evening, Kentucky Lake has a couple of great watering holes. 

Need a place to stay? Check out these options in Bowling Green and at Kentucky Lake. Request a BGKY Visitor's Guide, then sign-up for our monthly newsletter, so you can stay in the know on all things BGKY.