Bowling Green's Role in the Civil War
Kentucky was of such great strategic importance, that Abraham Lincoln stated in an 1861 letter, "I think to lose Kentucky is nearly the same as to lose the whole game." With Kentuckians divided between North and South, the state adopted a policy of neutrality at the beginning of the Civil War. The status ended in early September 1861, when Confederate troops under General Gideon Pillow seized the Mississippi River town of Columbus, Kentucky. The Union army under General Ulysses S. Grant responded by taking the cities of Paducah and Smithland, Kentucky. Fully realizing its importance to the Southern cause, Confederate General Simon Bolivar Buckner led approximately 4000 troops to occupy Bowling Green on 18 September 1861.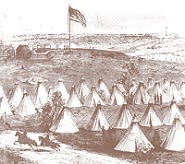 Both sides wanted control over Bowling Green and Warren County. The county's productive farms and its ample quantities of fresh water promised plentiful supplies for an army. The center of a reliable and defensible transportation network made Bowling Green one of the state's most strategic cities. The Louisville-Nashville Railroad, a system of roadways, and the Big Barren River could be relied upon to move men and supplies quickly and efficiently. Guns placed on the fortified hills around the city could easily defend these transportation routes.
Confederate General Albert Sidney Johnston, commander of the Confederate defenses between the Appalachian Mountains and the Indian Territory, chose Bowling Green as his headquarters. A pro-Confederate state government formed in Russellville, the county seat of neighboring Logan County, in November 1861. It declared Kentucky to be a "free and independent state" and made Bowling Green the Capital of the Confederate State of Kentucky.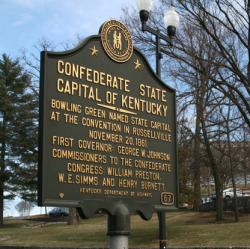 By late 1861, Bowling Green became the heart of the Confederacy's efforts in Kentucky. The new year brought serious concern to the Confederate occupation force. A Union victory at Mill Springs, in Eastern Kentucky, on 19 January 1862, and General Grant's victories at Forts Henry and Donelson to the west, made Bowling Green untenable for the Confederates. Union General Don Carlos Buell advanced his Army of the Ohio southward from the Green River. Under the command of General Ormsby Mitchel, Bowling Green was bombarded from across the Barren River.
The Confederate army evacuated the city, and by mid-February 1862, the city fell into Union hands. Federal troops controlled Bowling Green and Kentucky for the rest of the war. By 1864, there was a vigorous effort by the federal government to recruit and enlist slaves in Kentucky. Bowling Green and seven other military camps were designated to receive and protect those recruits.