Beech Bend Raceway In Bowling Green, KY
Many years before Corvette came to town, racers knew the name Bowling Green, Kentucky for its infamous drag strip nestled among the beech trees that lined the bend in the Barren River. The generations-old tradition of burning rubber on the strip at Beech Bend Raceway is still alive and well, and visitors can be a part of the nostalgic action almost every weekend from mid-March through Thanksgiving weekend.
Beech Bend is an auto racing facility that is nationally recognized for its drag strip as well as a storied oval track once busy with stock car racing but now more widely used for drifting competitions and vendor showcases. Race car enthusiasts can enjoy Fun Racing on Tuesday and Friday nights, NHRA drag racing on Sundays and dozens of national automotive events throughout the year.
The first stock car races were held at Beech Bend Raceway in 1948 followed by the drag strip's installment in 1956. Originally a simple graded surface, the stretch was paved before the end of the first season as interest in the sport increased virtually overnight, and continual upgrades were made until the strip qualified to host National Hot Rod Association sanctioned events. And the rest, as they say, is history!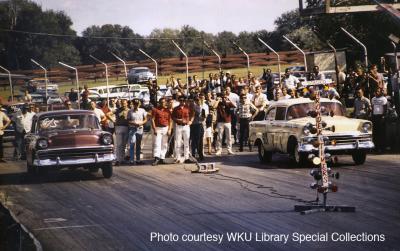 .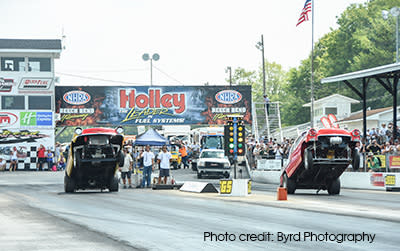 1/4 Mile Lighted Drag Strip with Concrete Walls, 760 Foot Concrete Pad, and CompuLink Timing System, Covered Stands Seat 12,000


1/3 Mile Lighted, Asphalt, Flat Oval Track, Stands Seat 2,500


480 Feet Above Sea Level, Free Parking, Racing Fuel and Alcohol Available, Clean Air-Conditioned Restrooms, Concession Stands Serving Hot Food


Reagan Theatre Overlooking Track with Four Suites Available, Each Hold 25-30, Private Restrooms


Host of Major Automotive Events Including: Holley LS Fest East, Danchuk Tri-Five Nationals, GoodGuys Nostalgia Nationals (past), National Mustang Racers Association World Finals, Camaro Fest, National Hot Rod Reunion, Buick GS Nationals, AMRA All Harley Drags and Challenger Fest


Adjacent Amusement Park with water park open from Memorial Day to Labor Day


500 Site Campground on the property


Meeting Facilities Available Include: (2) Enclosed Shelters, (2) Open Air Shelters & (1) Pavilion
Hours and prices vary by event. Visit the individual listings below for more details and contact information.
798 Beech Bend Road

(270) 781-7634
Watch racing on one of America's oldest, continuously operating drag strips at this nationally recognized quarter-mile drag strip! Beech Bend Raceway hosts dozens of national automotive events each season including the Wally Parks Nostalgia Nationals, The Tri-Five Nationals, and…
798 Beech Bend Road

(270) 781-7634
Enjoy this family-owned and operated park that repeatedly appears among the Top 5 Friendliest Parks from Amusement Today magazine! Don't mess with the long lines and the high prices of the huge theme parks... at Beech Bend, you get FREE parking, FREE sunscreen and FREE inner…